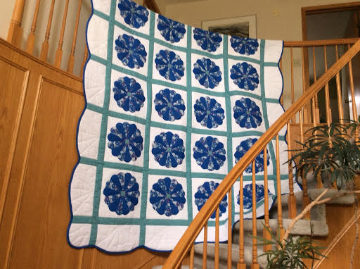 The quilt in the picture was made by the Westminster Quilting Group and will be sold by silent auction as part of the 125th Anniversary of Westminster United Church
with the proceeds going to the church.
Details
quilt dimensions: approximately 7 ft. by 8 ft. (Queen size bed).
quilt will be on display in the Fellowship / Lecture Hall of the Church Sundays, October 1st, 8th & 15th, and at the 125th Anniversary Dinner, October 21st, at the Norwood Hotel.
bids can be made at the church on October 1st, 8th & 15th or at the dinner on October 21st. Please see either Grace Aoki or Peter Macdonald.
there is a reserve bid of $950.
The Westminster Dresden Plate Memorial Quilt
From Grace Aoki: "In 2015 the members of the Quilting Group were cleaning out their cupboard in the Lecture Hall at the church when they discovered a bag containing 20 completed circles of a quilting pattern called Dresden Plate. No one had any memories of their origin or how long they had been in the cupboard. There was a note saying that they were donated by a friend of a deceased member of the congregation. My recollection is that it was one of the Stewarts but I do not recall a first name. The quilters decided that this find could be put to good use. We embarked on a new endeavor: to make a quilt from 'almost' scratch as a group and so it began. The pieces we found were first appliqued onto squares of white cotton. Then these completed squares were joined with green sashing to form the quilt top. Next, a quilting pattern of stitches had to be drawn onto the quilt top. These act as a guide for the quilt stitches. The quilt top was then stretched with batting and a backing of cotton onto a quilt frame in the library and the quilting began. Months later, in 2016 when it came off of the frame it was finished with a binding. This is the provenance of this beautiful quilt which the Quilters of Westminster thought was an appropriate symbol to celebrate our 125 anniversary."
Quilting has been a mainstay of Westminster Church activities since World War I.