Random notes …
This week we hold in our thoughts and prayers, the staff and volunteers of 1JustCity and their work.
Yesterday, Miao Fang and Jinwen Tian were married in our sanctuary. We wish them God's blessing on their marriage.
Many thanks to Rev. Don McIntyre for filling in at the pulpit while Rev. Sherri was away.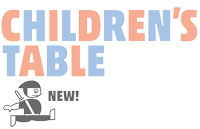 All children are invited to gather at the Children's Table following the anthem for a quiet activity to help them engage in and experience the gospel message. Along with a craft activity they will find Children's Bulletins in two different developmental levels containing activities relating to the day. During Epiphany we remember that the Wise Men followed a star that brought them to the Light of the World. We use the word light to describe Jesus because he shows us the way. This Sunday, January 14, at the Children's Table decorate a poster of lights to help you remember that Jesus is the Light of the World. For more information about the Children's Table, contact Teri Skakum, Child and Family Coordinator, at teri@westminsterchurch.org .