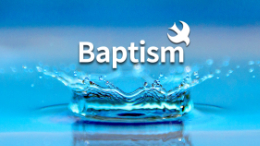 Today we celebrate the baptism of Bianca Maria Styba and the confirmation of her parents
Karolina and Tim Styba. The Styba family moved to Winnipeg last year from Fort McMurray. Tim grew up in Manitoba and Karolina is from Poland. Bianca's godparents are Heather Page and Darren Zapisocki. Welcome to Westminster, Styba family!
Thanks!
Thanks to Don Menzies for conducting the choir this week while Nathan is on the mend.