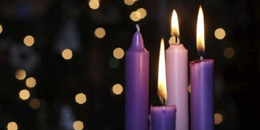 Random notes …
Help! On December 20th, between 10:00 am and 2:00 pm, are you free? The office needs bulletin folders for Christmas. Free Lunch catered by FoodFare, Georgine's famous baking and some wonderful company! Call or email Marilyn at the office if you are able to help out.
This week in the Winnipeg Presbytery prayer cycle we remember the Fred Douglas Society.
The Choir still has a supply of mincemeat for sale. Just $6 a tub!
Red Moon Road
Red Moon Road make a much bigger sound than one would expect from a trio. It's an impressive, well-choreographed show incorporating impeccable three-part harmonies, a roots drum kit split between two band members, and an acoustic guitar franken-rigged to also be the bass. Simultaneously, a moustached man plays mandolin, lap steel, banjo and organ (often at the same time), and subtle technological wizardry whirls while the  unmistakable soulful voice of Sheena, one of Canada's most talented singers soars above it all. RMR's latest album, Sorrows and Glories, toured through seven countries, was Polaris Prize long listed and spent six weeks at #1 on the national Earshot! Folk/Roots charts. Red Moon Road's unique show is equal parts polished songwriting, undeniable musicianship, compelling storytelling and engaging showmanship.