Random notes
Coffee and Conversation resumes in the Lecture Hall today after worship.
Congratulations to two couples who were married at Westminster this past week. On Sunday, September 3, Leah & Jason Olijnek and yesterday, September 9, Christopher and Shawna Shebobman were married in our sanctuary. We wish both couples, God's richest blessings on their marriage.
Please welcome Nick Urquhart – our new choral scholar! Nick has most recently been singing with the Manitoba Underground Opera company, and you will be sure to hear his deep resonant voice during a solo or in our choir on Sunday mornings. Please take a minute to say hi!
Thanks to Michael McKay for being our organist this morning.
MFPC
MFPC (Membership, Fellowship & Pastoral Care) committee is hosting a thank you and welcome back luncheon(in the chapel after church) for those who have been our volunteer visitors in the past. Did you notice that Murray has an assistant? His name is Ricky Ramos and he is training to take over from Murray in a few weeks. Welcome to Westminster Ricky!
In our thoughts…
This week we hold in our thoughts and prayers the congregation and staff of Crestview United Church.
New taxi service
In an effort to reduce costs, Westminster Church is trying a new taxi service called Seniors Transport. For more information contact Dawn Beirnes or the church office. Donations to the Taxi Fund are always welcome.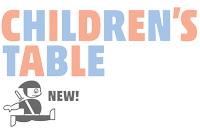 As we head into the fall we remind families that the Children's Table is available each Sunday for our younger worshipers.
All children are invited to gather at the Children's Table following the anthem for a quiet activity to help them engage in and experience the gospel message while allowing them to move around and explore in ways that come naturally to them.
This Sunday we are reminded that while saying your sorry isn't always easy it is what Jesus wants us to do and we need to remember that God always forgives us! Today at the Children's Table decorate an 'I'm Sorry Tree' to help you remember this important message. For more information about the Children's Table contact Teri Skakum, Child and Family Coordinator, at teri@165.227.34.127
The rumours are true
The choir is back in the choir loft, celebrating right along with you our 125th anniversary! It's always a good time to join the choir. If you or somebody you know is interested in joining, please contact Nathan(he's very approachable). nathanpoole@165.227.34.127 or 204-784-1330.
Covenanting Service and Reception
The Centre for Christian Studies invites you to attend a Covenanting Service and Reception for Michelle Owens as she begins her role as the new Principal at the Centre for Christian Studies. 7 – 9 pm Wednesday, September 13, 2017 here at Westminster. RSVP to Cheryl Thiessen by September 5 at 204-783-4490 or office@ccsonline.ca.
activity/craft leadership/assistance. A volunteer sign-up sheet will be posted on
September 17 so please give some thought to how you can help out.
Messy Church
What is Messy Church? Messy Church is a way of being church that is fun for families of all ages. It is interactive worship in a come as you are setting where we explore bible stories together through storytelling, drama, music, crafts and activities. It is an opportunity to meet your neighbours and share a meal with others. There is no cost to attend Messy Church and Messy Church is open to
people from all (or no) church backgrounds. Everyone is always welcome!
What you can expect at Messy Church…
5:00 – Gathering Time
5:15 – Community Meal
5:45 – Telling the Story
6:00 – Discovering the Story through hands-on crafts and activities
6:45 – Closing
7:00 – You're on your way!
For more information about Messy Church contact Teri Skakum, Child and
Family Coordinator, at teri@165.227.34.127
Changes
Some of you may have noticed that the front of the church looks a
little different this morning. This project was undertaken by the property
committee for a few reasons, one being to remove the large trees that are
close to the building to protect the foundation, and the other was to remove
the areas that have been used for camping/sleeping at the front of the
church. When the first tree was taken out on the south side due to the fire, it
was discovered that there had been a great deal of activity underneath the
trees. Now that the landscaping is completed, the gardens compliment the
beauty of our church and also increase safety for everyone around our
church.
This Week at Westminster
Sunday, September 10 Morning Worship, Sanctuary 10:30 – 11:30 am
Membership, Fellowship & Pastoral Care, Chapel 11:30 am
Monday, September 11 Westminster Housing, Library 5:15 – 6:30 pm
Sparks, Lecture Hall 6:30 – 7:30 pm
Pathfinders, Library 6:30 – 8:30 pm
Brownies, Concert Hall 6:30 – 8:00 pm
Guides, Gym 6:30 – 8:00 pm
Property, Chapel 7:00 – 9:00 pm
Tuesday, September 12 Knitters, Chapel 10:00 – 12:00 pm
Staff, Library 12:00 – 1:00 pm
Tai Chi, Lecture Hall 5:30 – 6:30 pm
Scouts Registration, Gym 6:30 – 8:30 pm
Wednesday, September 13 Families Anonymous, Library 1:00 – 3:00 pm
Centre for Christian Studies 7:00 – 9:00 pm
Inner & Outer Connections, Chapel 7:00 – 9:00 pm
Thursday, September 15
Quilters, Library
10:30 am – 2:30 pm
Tai Chi, Lecture Hall
5:30 – 6:30 pm
AlAnon, Library
7:00 – 8:00 pm
Choir, Sanctuary
7:00 – 8:30 pm
Sunday, September 18
Morning Worship, Sanctuary
10:30 – 11:30 am
Corey Francis recital, Sanctuary
2:30 – 4:00 pm
Spiritual Classics
Corey Francis will be performing on the beautiful grand piano at Westminster United Church! The repertoire includes some classical, some Final Fantasy, and arrangements of hymns! This concert-
fundraiser serves to enhance the Spiritual Care Program for the residents at Kildonan Personal Care Centre. With your support, we can purchase new large-print hymnals, tune the piano, and make our sanctuary even more welcoming and accessible to our residents! Please join us on Sunday, September 17th, 2017 from 2:30 p.m. to 4:00 p.m. Contact Corey Francis at 204-334-4633 Ext. 307 for more details! Free admission. Donations gratefully accepted.
Anniversary Events
Anniversary Book Study: Fishing Tips – In preparation for
the John Pentland Weekend, the same book study, offered
in two different timeslots in the chapel. (facilitated by Rev.
Sherri)
Sundays, Oct. 1, 15, 22/17 – 11:45 am – 1:00 pm
Tuesdays Oct. 10, 17, 24/17 – 1:30 – 2:45 pm
Books are available in the church office @ no charge.
Sunday Sept. 24 – Special Anniversary service with guest speaker Mary
Scott speaking about "Women and the Westminster Church
Community"
A potluck lunch will follow.
Saturday Oct. 21 – Anniversary Dinner 5:30 pm (dinner at 6)
Norwood Hotel, Marion St. Main floor Ballroom (easy access)
Tickets available in the office or from Helen LaRue or Ted
Barnett…$50.00 / $55.00 after Sept. 10, 2017
Saturday Oct. 28 – Westminster Congregational Workshop with John
Pentland
Sunday Oct. 29 – 10:30 am Guest Preacher, John Pentland
Sunday Oct. 29 – 7pm An Evening with John Pentland (public lecture,
all welcome)
Sunday Nov. 5 – 10:30 am – 125th Anniversary Service, with Guest
Preacher Devon Clunis (retired Winnipeg Police Chief) and a special presentation from our choir and guest instrumentalists.
Emergencies at Home and around the Globe
The United Church of Canada is monitoring several situations around the world where people are facing the effects of extreme weather events. Please join us in praying for those impacted by these events, our partners in the regions, and those who remain in harm's way from approaching storms. Find out more about the United Church response to these situations and how you can help.
The United Church of Canada is accepting donations for relief efforts related to Hurricane Irma. The United Church of Canada works with several churches and agencies throughout the
Caribbean region, including ACT Alliance, the Methodist Church of the Caribbean and the
Americas, the Cuban Council of Churches, and the Karl Lévêque Cultural Institute. This provides multiple ways that the church can assist people affected by Hurricane Irma to assist with evacuations and emergency shelter where necessary, and to plan for post-storm responses.
In the United States, our full communion partner, the United Church of Christ, is initiating
responses to the ongoing wind and flood disaster on the Gulf Coast. The United Church of Christ is accepting donations for these efforts.
 Floods in parts of southeast Asia are causing significant hardship and loss of life as well as
property. The United Church of Canada has responded to emergency relief efforts in India through Mission & Service partner ACT Alliance. We have also contributed to an ecumenical emergency response in India through the Canadian Foodgrains Bank. We continue to monitor the situation and discern how best we can offer support and prayer. And we ask people to pray for all those affected.
Close to home, First Nations communities in northern Manitoba are experiencing devastation from forest fires requiring evacuation. We are tracking this situation closely and are working with our Indigenous colleagues to determine an appropriate response from the people of The United Church of Canada. Please join the Aboriginal Ministries Circle in prayer.
Faith communities and individuals can use the prayer, "Gather Us, Great Creator" to pray for all those who are being affected by extreme weather events. [Photo: Associated Press/Rajanish Kakade]
Angus Browne, Merchant
Angus was born in Elderbank, Halifax County, Nova Scotia in 1844. He came to Winnipeg in 1879 and married his wife, Janet. He established his building supply company at 250 Sutherland Avenue, a canny career move in a young city where building was a core growth activity. (In November, 1908, Angus was selling Oak at $6.50 and poplar at $4.25 according to his ad in the Winnipeg Tribune)
He was not only involved in Westminster (He and Janet were founding members) but took on an important role in his community serving for 15 years on the Winnipeg School Board twice elected at Chairman. Angus died at his residence at 101 Monck Avenue, Norwood, August 13, 1922.
As School Trustee he had the honour to lay the cornerstone of Isbister school in 1898, with a silver trowel no less, in what was described as a "grand ceremony". (Isbister is the oldest school in Winnipeg and still exists at 310 Vaughan Street as an Adult Education Centre)