Prayers and Praise
Please remember the congregation and staff of MacGregor United Church in MacGregor, MB in your prayers this week.
We offer prayers and condolences to the Brown family on the death of Jo Brown. Jo died at the end of July, and her funeral was August 2 at St. Andrews River Heights United Church.
Prayers and condolences are also offered to Carol Latter and Mike Herba and family on the death of Carol's mother, Doris Latter. A celebration of life took place this past week at Fort Garry United Church.
This morning we welcome dramatic soprano Sandra Bender as guest soloist. Sandra Bender her Master of Music at McGill University's Schulich School of Music in 2009 and has sung such roles and excepts as Lady Billows in Albert Herring (Britten), the title roles in Turandot and Tosca (Puccini), Elsa von Brabant in Lohengrin (Wagner), 3rd Norn in Götterdämmerung (Wagner), Fiordiligi in Cosi fan tutte (Mozart), Lady Macbeth in Macbeth (Verdi), and Blanche de la Force incPoulenc's Les Dialogues des Carmélites. A seasoned recitalist, Sandra has performed over twenty solo concerts, and has been a finalist or semi-finalist in the Canadian Music Competition, the George London Foundation, the Liederkranz Foundation, and Gerda Lissner Opera Competitions, competing in the Wagner categories. Most notably, Sandra has twice won the District of North Dakota with the Metropolitan Opera National Council Auditions. She currently teaches voice lessons at the Winnipeg Conservatory of Music.
Welcome back to both our Minister, the Rev. Sherri McConnell, and our caretaker supervisor, Dan Beauvais! We thank Murray Cheney for assisting in Dan's absence.
The Westminster Child Care Centre had a Petting Zoo come for a visit on July 26. This is always enjoyed by church staff and the neighbours too.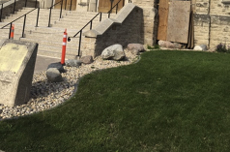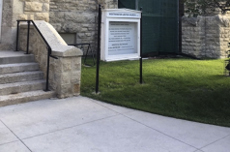 Above are two pictures, taken at the end of July, to show the progress of the ongoing work on the exterior of Westminster Church.
---
This Week at Westminster
Sunday, August 11
• Communion, Rev. Sherri McConnell: 10:30 to 11:30 am
Wednesday, August 14
• Families Anonymous, Library: 1:00 to 3:00 pm
Sunday, August 18
• Morning Worship: 10:30 to 11:30 am
Please note that our office administrator, Marilyn Thiessen, is on vacation for the month of August. Events coordinator Michael McKay will be filling in for her until September 4.
---
The Creation
On Friday, August 23rd come hear Haydn's choral masterpiece, The Creation, performed by SummerChör community choir plus orchestra! Soloists are Sarah Jo Kirsch (soprano), Justin Odwak (tenor) and Matthew Pauls (baritone).
Nathan Poole is acting as concertmaster. Tickets can be purchased at the door, but a discount applies when you order in advance online: tiny.cc/creation
---
Flipside Opera
On Sunday, 25 August 2019, at 3:30 pm, Augustine United Church (444 River Avenue) hosts Flipside Opera in a program of opera, operetta, and popular songs. Fruit punch, lemonade, and dainties will be served. A free will offering will be taken. Hope to see you there!