Congrats!
Congratulations to our latest Westminster Newlyweds, Ryan & Nicole and Nolan & Stephanie, who were married here yesterday afternoon. We wish them God's richest blessings.
Board meeting highlights
Highlights from the Board Meeting of May 23rd:
 Our Anniversary Service on November 5th will feature Devon Clunis, former police chief as our guest speaker.
Ceiling repairs above the 745 Westminster door are planned, with Heritage funding being sought.
Membership, Fellowship and Pastoral Care are beginning work on re-energizing the visitor program. Stay tuned for details on how we can all get involved.
A draft schematic prepared by Ministry & Personnel, outlining staff reporting lines was reviewed and referred to the committees involved for further discussion.
With Lynley and Ben moving on to new endeavours, we passed a motion to hire two choral scholars.
The Board meets next on June 20th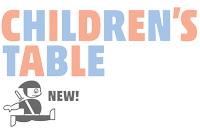 All children are invited to gather at the Children's Table following the anthem for a quiet activity to help them engage in and experience the gospel message while allowing them to move around and explore in ways that come naturally to them.
In this week's Gospel reading we hear about God creating the world and all that is in it. Today at the Children's Table, make a Creation Book Mark to help you remember, and retell, this wonderful story. For more information about the Children's Table contact Teri Skakum, Child and Family Coordinator, at teri@165.227.34.127
Help Wanted
Westminster United Church is seeking an individual to work as its Events Coordinator, 15 hours per week, effective immediately. For more information, please contact either of the Co-Chairs of the Ministry & Personnel Committee, Fred Aoki – 204-488-2236, aokify@cc.umanitoba.ca or Richard Scott – 204-888-2996, richard_scott@shaw.ca.
Sport
News from Rome. The Pope is giving strong consideration to awarding an honourary knighthood to Don McIntyre for winning the Westminster Open Golf Tournament for a second consecutive year. Other members of the winning team were Val McIntyre, Cheryl Drachuk and Gary Drachuk. 24 golfers were joined by 18 non-golfers at the tournament dinner. The event produced $2845 for Westminster.
Anniversary Events
Sunday Sept. 24 – Special Anniversary service with guest speaker Mary Scott speaking about "Women and the Westminster Church Community"
Saturday Oct. 21 – Anniversary Dinner 5:30 pm (dinner at 6) Norwood Hotel, Marion St.
Main floor Ballroom (easy access). Tickets available in the office or from Ted Barnett…$50.00 / $55.00 after Sept. 10, 2017
Saturday Oct. 28 – Westminster Congregational Workshop with John Pentland
Sunday Oct. 29 – 10:30 am Guest Preacher, John Pentland
Sunday Oct. 29 – 7pm An Evening with John Pentland (public lecture, all welcome)
Sunday Nov. 5 – 10:30 125th Anniversary Service, with Guest Preacher Devon Clunis (retired Winnipeg Police Chief) and a special presentation from our choir and guest instrumentalists.
This Week at Westminster
Sunday, June 11
• Membership, Fellowship & Pastoral Care, chapel after worship
Monday, June 12
• Westminster Housing, library 5:15 pm
Tuesday, June 13
• Tai Chi, lecture hall 5:30 – 6:30 pm
Wednesday, June 14
• Families Anonymous, library 1:00 – 3:00 pm
• Land of Lakes Choir Boys Concert 7:30 pm
• Inner & Outer Connections, Chapel 7 pm
Thursday, June 15
• Laura Secord School nursery/kindergarten field trip to see our stained glass windows 10 am and 2 pm
• Quilters, library 10:30 – 2:30
• Staff and M & P lunch 1 pm
• Tai Chi, gym 5:30 – 6:30 pm
• AlAnon, library 7:00 – 8:00 pm
Friday, June 16
• Balmoral Hall Senior rehearsal noon – 3 pm
• Bell Tower Community Café BBQ 6:30 pm
Saturday, June 17
• Recital – Nathan's students 9 am to 1 pm
Sunday, June 18
• Morning Worship 10:30 am
Facebook
Are you on Facebook? Westminster is too! Be sure to "Like" and "Follow" our page. Each week we post upcoming events, from the choir anthem and solos, to the theme for the children's activity, as well as many other activities taking place.
Help us get 300 Likes!