This week we hold in our thoughts and prayers St. Andrew's River Heights UC.
Today, welcome guest preacher, Michelle Owens!
Michelle Owens is Principal of the Centre for Christian Studies, a national theological school based in Winnipeg (just up the street at 60 Maryland St). CCS has connections to the United Church of Canada and the Anglican Church of Canada, and provides theological education for those becoming diaconal ministers in the United Church of Canada, and educational opportunities for anyone interested in exploring leadership and faith/spirituality. CCS describes itself as a school, a community and a movement that seeks to educate leaders for justice, compassion and transformation. Michelle joined the Centre for Christian Studies as principal in August 2017. She is a graduate of the Centre and a diaconal minister in the United Church of Canada. Michelle came to Winnipeg from Ontario, where she served as London Conference's Personnel Minister. Prior to that, she had served in a three point rural charge in Perth County, Ontario, and had been a candidate for ministry from Trinity St. Paul's United Church in Toronto.
The United Church Observer — renewal time!
It is time to think about renewing your subscription to The Observer. If you have never subscribed, please consider doing so. The United Church Observer is an independent, monthly magazine reporting on national and international issues of faith, justice, ethics, daily living and popular culture. It is a tool for communication within the United Church and with the larger community. To renew your subscription or subscribe for the first time, please send a cheque for $25.00, made out to Westminster United Church, to the Westminster office: 745 Westminster, R3G 1A5. Please include your name and address.
Saturday March 17 Family Fun Event, noon – 2:00 p.m.
Two volunteers are needed to help Teri Skakum, our Child and Family coordinator, to host the program and assist with the crafts. This program is an initiative of the Inner & Outer Connections Committee and is designed to attract more children & families to Westminster. Can you help? If so, please contact the office at 204-784-1330.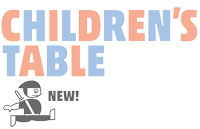 Children are invited to gather at the Children's Table following the anthem for a quiet activity to help them engage in and experience the gospel message, while allowing them to move around and explore in ways that come naturally to them. Along with a craft activity they will find Children's Bulletins in two different developmental levels containing activities relating to the day. During the season of Lent we prepare our hearts for God through praying, asking questions and reading God's word. This Sunday, March 11, at the Children's Table we will create praying hand booklets to help us when we talk with God. For more information about the Children's Table, contact Teri Skakum, Child and Family Coordinator, at teri@westminsterchurch.org
Via Crucis
On Sunday March 25 at 7:30 PM, pianist Michael McKay will present Via Crucis, a musical meditation on Christ's passion. The recital will consist of a performance of Franz Liszt's Via Crucis with readings from Anne Catherine Emmerich's The Dolorous Passion of Our Lord Jesus Christ. Concert at Westminster United Church, 745 Westminster Avenue. Tickets ($20) on sale at the door.
An Evening with Dr. Niigaan Sinclair
The Inner and Outer Connections Team of Westminster United Church presents: An Evening with Dr. Niigaan Sinclair (Associate Professor of Native Studies at the University of Manitoba) on the topic: 'The Winter of Loss: A Discussion of What Reconciliation Looks Like Now.' May 2, 2018 at 7:30 PM at Westminster United Church, in the Sanctuary. There will be a Free Will Offering at the door. Proceeds will be donated to the Department of Native Studies at the U of M, in support of a student scholarship.
---
This Week at Westminster
Sunday, March 11
• Morning Worship, Sanctuary: 10:30 to 11:30 am
• Pembina Trails Voices concert, Sanctuary: 3:00 pm
Monday, March 12
• Sparks, Lecture Hall: 6:30 to 7:30 pm
• Pathfinders, Library: 6:30 to 8:30 pm
• Brownies, Concert Hall: 6:30 to 8:00 pm
• Guides, Gym: 6:30 to 8:00 pm
• Ministry & Personnel, Chapel: 7:00 to 9:00 pm
• Organ Series Committee, TBA: 7:00 to 9:00 pm
Tuesday, March 13
• Knitters, Chapel: 10am to noon
• Staff, Library: 12:00 to 1:00 pm
• Tai Chi, Gym: 5:30 to 6:30 pm
• Beavers, Concert Hall: 6:30 to 7:45 pm
• Cubs, Gym: 6:30 to 8:00 pm
• Venturers, Library: 6:30 to 8:30 pm
Wednesday, March 14
• Families Anonymous, Library: 1:00 pm to 3:30 pm
• Scouts, Gym: 6:30 pm to 8:00 pm
• Inner & Outer Connections, Chapel: 6:30 pm to 9:30 pm
• Choral Excellence concert, Sanctuary & LH: 7:00 pm
Thursday, March 15
• Quilters, Library: 10:30 am to 2:30 pm
• Tai Chi, Lecture Hall: 5:30 to 6:30 pm
• Judo, Gym: 6:30 to 8:30 pm
• AlAnon, Library: 7:00 to 8:00 pm
• Choir, Sanctuary: 7:00 to 8:30 pm
Friday, March 16
• Fellowship Committee, Library: 2:00 to 3:30 pm
Saturday, March 17
• Family Fun Event, Chapel: 12:00 to 2:00 pm
• WMF Rose Bowl, Sanctuary & Lecture Hall: 7:00 pm
Sunday, March 18
• Morning Worship, Sanctuary: 10:30 to 11:30 am
• WMF Final Gala concert, Sanctuary & LH: 2:00 pm