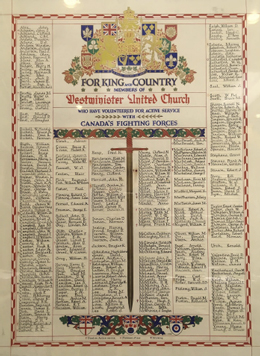 Random notes …
The abstract painting on the platform this morning is a work by our own Robert L. Burton, titled Hovering Doves of Peace.
This week in the Winnipeg Presbytery prayer cycle we remember the congregation and staff of Harrow United Church.
Mincemeat!
Westminster's famous mincemeat will be on sale on Sunday, November 25th following the service. Don't miss the opportunity to get your supply. Price remains unchanged at $6.00 a tub.
Upcoming Worship Services
18 November 2018 / Anniversary Service, 7:00 pm, Jazz Vespers with musicians from the University of Manitoba.
25 November 2018 / Stewardship Sunday 1
2 December 2018 / Stewardship Sunday 2, Advent 1 and Communion
TONIGHT!
You are invited to come to Songs of Remembrance, a concert of music on the themes of war, peace, and death, and loss, also featuring music of composers whose lives were greatly affected by war. The performers are Michael Cutler (organ), Sandra Bender (soprano), Michael McKay (piano), and Nathan Poole (violin). Sunday, Nov. 11th, 7:00 pm at Crescent Fort Rouge United Church. Tickets are $15 at the door.
---
This Week at Westminster
Sunday, November 11
• Morning Worship, Sanctuary: 10:30 to 11:30 am
Monday, November 12
• Westminster Housing Society, Library: 5:00 to 6:30 pm
• Sparks, Lecture Hall: 6:30 to 7:30 pm
• Brownies, Concert Hall: 6:30 to 8:00 pm
• Guides, Gym: 6:30 to 8:00 pm
• Pathfinders, Board Room: 6:30 to 8:30 pm
• Ministry & Personnel Committee, Library: 7:00 to 9:00 pm
Tuesday, November 13
• Knitters, Chapel: 10 am to noon
• Staff, Library: 12:00 to 1:00 pm
• Tai Chi, Lecture Hall: 5:30 to 6:30 pm
• Beavers, Concert Hall: 6:30 to 7:45 pm
• Cubs, Gym: 6:30 to 8:00 pm
• Venturers, Board Room: 6:30 to 8:30 pm
Wednesday, November 14
• Families Anonymous, Library: 1:00 to 3:00 pm
• Stewardship Committee, Library: 6:00 to 8:00 pm
• Scouts, Gym: 6:30 to 8:00 pm
• Inner & Outer Connections Committee, Chapel: 7:00 to 9 pm
Thursday, November 15
• Quilters, Library: 10:30 am to 2:30 pm
• Tai Chi, Lecture Hall: 5:30 to 6:30 pm
• Choir, Sanctuary: 7:00 to 8:30 pm
Friday, November 16
• Centering Prayer, Library: 10:00 am to 12:00 pm
• Fellowship, Membership, & Pastoral Care Library: 1:00 to 3:00 pm
• Bell Tower Community Café & Winnipeg Harvest Food Bank: 6:30 to 8:00 pm
Sunday, November 18
• Morning Worship, Sanctuary: 10:30 to 11:30 am
• Jazz Vespers Service, Sanctuary: 7:00 pm
---
Westminster Children's Christmas Sale
Our annual Westminster Children's Christmas Sale is happening on December 8th. You make it happen by donating items such as costume jewelry, toiletries, knitting, stationery, household items, cups and saucers, mugs, stuffed toys, books, perfume, games, puzzles, ties, ornaments, candles — anything you think a child might like to give to family members or friends.
We also need gift bags, ribbon, and tags.
Please be sure that your items are in new condition.
Please drop off your donations at the Church office or leave them with a caretaker.
To volunteer, please call the church office at 204-784-1330.
Thank you for your support in this Outreach to our community!
---
Memory Tree
The MEMORY TREE will be in the sanctuary from early November to January 31, 2019. Order forms, to purchase Memory Stars, are in the narthex and the back hallway.
---
Westminster Centering Prayer
All are welcome!
Have you ever wished you had a little more stillness in your life? Maybe you have been searching for a new spiritual practice? Well, the Westminster Centering Prayer group might be the place for you!
The Westminster Centering Prayer Group meets monthly from 6 to 7 pm in the Chapel. This is an open group and all are welcome! No previous experience is necessary. If you have ever been curious or interested in Centering Prayer, you are welcome. Upcoming Dates for Westminster Centering Prayer Group:
Wednesday Nov. 14, 2018 6 -7 pm
Wednesday Dec. 12, 2018 6 – 7 pm
Email or call the church office if you have any questions, to let us know if you plan to attend. Hosted by the Inner and Outer Connections Committee.
---
Gifts with Vision catalogue
The 2018-2019 Gifts with Vision catalogues have arrived! A great way to give to those in need and do your Christmas shopping at the same time! You can help folks in Oxford House to buy groceries (pg. 13) or provide warm clothes and a meal (pg 15) here in Winnipeg at one our Community Ministries. There are many other opportunities for giving across Canada or around the world. Catalogues can be found on the tables in the narthex or hallway or shop online at giftswithvision.ca.
---
Renaissance Voices
Join Renaissance Voices in Sing Joyfully, the chamber choir's annual Advent concert, November 30 and December 1st at Young United Church. Under the direction of Dr. Janet Brenneman, this uplifting seasonal program includes works by favourite Renaissance composers William Byrd, Orlando di Lasso, and Hans Leo Hassler as well as contemporary motets from composers Hugo Distler and William Matthias. Singer and composer Jesse Krause will present the world premier of his vibrant and glorious Maginifcat.
This year the choir welcomes special guest organist Lottie Ens Braun who will perform masterworks of J. S. Bach, Johannes Brahms and Canadian composer Denis Bédard.
As always, the concert will take place in our warm candle lit atmosphere in cabaret style seating, with mulled wine and hot apple cider ready to welcome you into the holiday season. Doors open at 7:30 pm. Concert at 8 pm. Tickets are $25 for adults and $15 for students. Available from McNally Robinson Grant Park and from choir members.
---
Oakbank United Church Dinner Theatre
Tickets for Oakbank United Church's 26th dinner theatre production, Just John, are now on sale. Tickets are $50 each and include a $25 tax receipt. For further details on this year's production and up-to-date seating availability, please check our website www.oakbankdinnertheatre.com. Tickets may be purchased by contacting Barb Kyle at 204.805.2854.
---
Taxi!
The Westminster Taxi fund was set up to allow folks who find it difficult to make their way to church, the ability to come on Sundays at no cost to them. Please remember this important outreach to our church family.
---
In Flanders Fields
The World's Most Famous war memorial poem, by Lieutenant Colonel John McCrae
In Flanders fields the poppies blow
Between the crosses, row on row,
That mark our place: and in the sky
The larks still bravely singing fly
Scarce heard amid the guns below.
We are the dead: Short days ago,
We lived, felt dawn, saw sunset glow,
Loved and were loved: and now we lie
In Flanders fields.
Take up our quarrel with the foe
To you, from failing hands, we throw
The torch: be yours to hold it high
If ye break faith with us who die,
We shall not sleep, though poppies grow
In Flanders fields.
Composed at the battlefront on May 3, 1915 during the second battle of Ypres, Belgium
On May 2, 1915, John McCrae's close friend and former student Alexis Helmer was killed by a German shell. That evening, in the absence of a Chaplain, John McCrae recited from memory a few passages from the Church of England's "Order of the Burial of the Dead." For security reasons Helmer's burial in Essex Farm Cemetery was performed in complete darkness.
The next day, May 3, 1915, Sergeant-Major Cyril Allinson was delivering mail. McCrae was sitting at the back of an ambulance parked near the dressing station beside the YserCanal, just a few hundred yards north of Ypres, Belgium. As John McCrae was writing his In Flanders Fields poem, Allinson silently watched and later recalled, "His face was very tired but calm as he wrote. He looked around from time to time, his eyes straying to Helmer's grave."
Within moments, John McCrae had completed the In Flanders Fields poem and when he was done, without a word, McCrae took his mail and handed the poem to Allinson.
Allinson was deeply moved: "The (Flanders Fields) poem was an exact description of the scene in front of us both. He used the word blow in that line because the poppies actually were being blown that morning by a gentle east wind. It never occurred to me at that time that it would ever be published. It seemed to me just an exact description of the scene."
From http://www.flandersfieldsmusic.com/thepoem.html