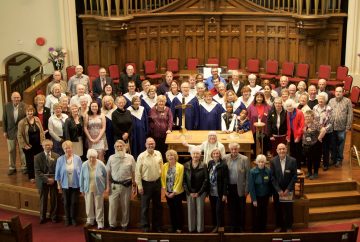 News from the Property Committee
The Property Committee has several major projects underway (from Brandon Johnston, Property Chair)
The solar panel project is moving forward. Our structural engineers and the Blue Sky engineers are currently making drawings. Once both are complete they can compare and ensure the building is suitable for the solar panels. Heritage will then be more involved at this point and their approval is required to proceed. The application has been made to Manitoba Hydro and we expect to hear back from them in the next week or so.
Quotes are currently being received for the replacement of the front steps. This will not be a quick or simple repair. A grant application is being made to community places to cover some of the project cost.
Belated birthday wishes to Margaret Harrison on celebrating her 90th birthday this past week.
May 27 Conference Worship
Westminster United Church will not hold a service on Sunday, May 27 in order to encourage people to attend the final worship service of the Conference of Manitoba and Northwestern Ontario. The 10 am service will be at University Centre, University of Manitoba. Winnipeg Presbytery is offering subsidized bus rentals for congregations to attend. If you are interested in taking the bus with your Westminster Family to the Conference Worship Service, sign up in the Lecture Hall during coffee time after worship. If there is enough interest, we will organize a bus rental for that day.
Save the date!
Ministry and Personnel has requested a 'Workplace Safety' workshop given by the Winnipeg Police Service on Sunday, June 3 at 12:30 pm in our Lecture Hall. This workshop is intended to help staff and volunteers deal with difficult situations. There is no charge to attend and everyone is welcome. Please contact the church office to register.
Westminster Open!
The 21st Westminster Open Golf Tournament is scheduled for TUESDAY, June 5. Detailed information about the tournament can be obtained from Peter Macdonald, pmacwpg@gmail.com, (204) 889-6983.
Request for Muffins & Cookies
Request for Muffins & Cookies for Conference Annual Meeting, May 24-27, 2018. The annual meeting weekend of the conference of Manitoba and Northwestern Ontario is rapidly approaching and we are still in need of donations for the nutritional breaks and volunteers to help in the book room. We are requesting approximately 4 dozen muffins and 8 dozen cookies from each congregation for the delegates to enjoy during the breaks. It would be helpful if muffins and cookies:
Contain NO nuts
No icing
Some muffins or cookies can be sugar free and some gluten free (please label)
Please also consider assisting with the United Church book table (Thursday evening, Friday and Saturday – volunteers will be able to see and hear speakers at the conference while at the book table) or agreeing to billet conference delegates. If you are able to help with these requests, please contact: Sheron Miller 204-668-5117 miller01@mymts.net OR Conference Office 204-233-8911 office@confmnwo.mb.ca
Wasaga Women's Weekend
Wasaga Women's Weekend, Camp Wasaga, Clear Lake, Manitoba
Soul Evolution – Theme Leader to Pat Miles: Soul Evolution Therapist. The Weekend Theme is about developing a trusting, loving and harmonious relationship with your Self first, then others. Registration by May 20th, $200.00. Contact barbarawiebe@shaw.ca or 204-663-5007. Mail registration form & cheque to Barbara Wiebe, 156 Macaulay Crescent, Winnipeg R2G 0P5. Registration forms are available on the hall table.
---
This Week at Westminster
Sunday, May 13
• Morning Worship, Sanctuary: 10:30 to 11:30 am
Monday, May 14
• Westminster Housing Society, Library: 5:15 pm
• Sparks, Lecture Hall: 6:30 to 7:30 pm
• Brownies, Concert Hall: 6:30 to 8:00 pm
• Guides, Gym: 6:30 to 8:00 pm
• Pathfinders, Library: 6:30 to 8:30 pm
• Ministry & Personnel, Chapel: 7:00 pm
Tuesday, May 15
• Knitters, Chapel: 10:00 to 12:00 am
• Staff, Library: 12:00 to 1:00 pm
• Tai Chi, Lecture Hall: 5:30 to 6:30 pm
• Board, Library: 6:30 to 9:30 pm
• Beavers, Concert Hall: 6:30 to 7:45 pm
• Cubs, Gym: 6:30 to 8:00 pm
• Venturers, Board Room: 6:30 to 8:30 pm
Wednesday, May 16
• Families Anonymous, Library: 1:00 to 3:00 pm
• Scouts, Gym: 6:30 to 8:00 pm
Thursday, May 17
• Quilters, Library: 10:30 am to 2:30 pm
• Tai Chi, Lecture Hall: 5:30 to 6:30 pm
• Choir, Sanctuary: 7:00 to 8:30 pm
• Choir Potluck, Lecture Hall: 8:30 pm
Friday, May 18
• Bell Tower Community Café & Wpg Harvest Food Bank: 6:30 to 8 pm
Sunday, May 20
• Morning Worship, Sanctuary: 10:30 to 11:30 am
---
Thank you!
Thank youto everyone who contributed in making the Dr. Niigaan Sinclair evening a huge success! The money raised for the Native Studies Student Scholarship Fund at the University of Manitoba was $624.50! – Inner and Outer Connections Committee
You may need …
… to leave for church a little earlier on Sunday, June 17! It marks the 40th running of the Manitoba Marathon, the premier fund raising event for Manitobans living with an intellectual disability. For more information email Operations@manitobamarathon.mb.ca.
Save the date!
Saturday Oct. 20, 2018 / Westminster's Fall Supper here at the church. Planning is underway! See Helen La Rue for more info.