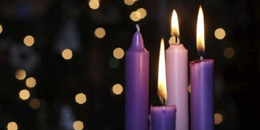 Random notes …
Help! On December 20th, between 10:00 am and 2:00 pm, are you free? The office needs bulletin folders for Christmas. Free Lunch catered by FoodFare, Georgine's famous baking and some wonderful company! Call or email Marilyn at the office if you are able to help out.
This week in the Winnipeg Presbytery prayer cycle we remember the Fred Douglas Society.
The Choir still has a supply of mincemeat for sale. Just $6 a tub!
Red Moon Road
Red Moon Road make a much bigger sound than one would expect from a trio. It's an impressive, well-choreographed show incorporating impeccable three-part harmonies, a roots drum kit split between two band members, and an acoustic guitar franken-rigged to also be the bass. Simultaneously, a moustached man plays mandolin, lap steel, banjo and organ (often at the same time), and subtle technological wizardry whirls while the  unmistakable soulful voice of Sheena, one of Canada's most talented singers soars above it all. RMR's latest album, Sorrows and Glories, toured through seven countries, was Polaris Prize long listed and spent six weeks at #1 on the national Earshot! Folk/Roots charts. Red Moon Road's unique show is equal parts polished songwriting, undeniable musicianship, compelling storytelling and engaging showmanship.
… and TODAY is White Gift Sunday.
Your donations of new unwrapped gifts for children of all ages, non-perishable foods and money will be collected for the Christmas Cheer Board.
---
Nathan's Notes
Westminster has a reputation for its music — not only the music we present and sing on Sunday mornings and special services, but also the space in which our musical community performs. We are the performing home of so many arts organizations, from the Manitoba Chamber Orchestra, to the Winnipeg Music Festival — this sanctuary we call church is a musical home for so many. How blessed are we as a church to be able to open our doors to a group like Red Moon Road to share in our musical worship as we prepare for Christmas. On another note, the choir has finished rehearsals for the 2018 year. Rehearsals will resume on January 3rd, 7:00 pm — for those brave souls willing to come and join our choir!
---
Memory Tree
Stars on the Memory Tree have been purchased by Margaret Cuddy and Cynthia Goncalves. The Memory Tree will be in the sanctuary from early November to January 31, 2019. Order forms are in the narthex and the back hallway.
---
Upcoming Worship Services
All are welcome on December 19th: Blue Christmas Service, 7:00 pm. Join us for a service of scripture, music, candlelight and reflection.
December 23rd: After Church Congregational Christmas Lunch.
Decemmber 24th: Christmas Eve Services at 7:00 & 11:00 pm. Our Family Service at 7:00 pm will feature videos, lessons, carols and stories for the whole family. At 10:30 pm, our Organist, Don Menzies will play some Christmas favourites. Our Choral Candlelight service at 11:00 pm will feature our Westminster Choir, Casavant Organ and a Brass Quintet with Lessons, Carols and Hymns of Christmas.
December 30th: Rev. Don McIntyre.
January 6th: Rev. Don McIntyre.
---
Friday Morning Centering Prayer Group
You are invited to embark on a new adventure being offered at Westminster! Starting Friday, January 11, 2019, an intentional Centering Prayer Group is planning to meet in the Library at 10 a.m. on a weekly basis.
We will meet on January 11, 18 and 25. At that point, if we have enough interest we will continue on at a time and frequency that suites the participants. To facilitate people moving on with other commitments in their day, we plan to begin Centering Prayer time promptly at 10 a.m. followed by Lectio Divina. It is expected that by 11:00 a.m. this will be completed; giving people an opportunity to slip out. At that point, there will be an opportunity for discussion, fellowship and prayer for those who would like to stay – wrapping up by 12 noon.
(There is no cost, sponsored by the Inner and Outer Connections Committee.)
---
This Week at Westminster
Sunday, December 16
• Morning Worship, Sanctuary: 10:30 to 11:30 am
Monday, December 17
• Sparks, Lecture Hall: 6:30 – 7:30 pm
• Brownies, Concert Hall: 6:30 to 8:00 pm
• Guides, Gym: 6:30 to 8:00 pm
• Pathfinders, Board Room: 6:30 to 8:30 pm
Tuesday, December 18
• Knitters, Chapel: 10:00 to 12:00 am
• Staff, Library: 12:00 to 1:00 pm
• Tai Chi, Lecture Hall: 5:30 to 6:30 pm
• Beavers, Concert Hall: 6:30 to 7:45 pm
• Cubs, Gym: 6:30 to 8:00 pm
• Venturers, Board Room: 6:30 to 8:30 pm
Wednesday, December 19
• Families Anonymous, Library: 1:00 to 3:00 pm
• Scouts, Gym: 6:30 to 8:00 pm
• Blue Christmas Service, Sanctuary: 7:00 pm
Thursday, December 20
• Quilters, Library: 10:30 am to 2:30 pm
• Tai Chi, Lecture Hall: 5:30 to 6:30 pm
Sunday, December 23
• Morning Worship, Sanctuary: 10:30 to 11:30 am
• Choir Rehearsal, Sanctuary: 1:00 to 2:30 pm
---
A message from Pamela McLeod Arnold
Thanks to the generosity and enthusiasm of many, many donors and patient, cheerful volunteers, the Westminster Children's Sale was again a great success with well over 100 children enjoying the Christmas spirit of giving by choosing and wrapping over 1,600 gifts for their families and friends. The number of volunteers was higher than it has ever been before and that – in a time of frantic preparations and stressful demands on everyone's time — is something for which I am so grateful.
Here's a moment that epitomizes the importance of the Children's Sale. Picture this: five youngsters, counting and wrapping their treasures, crying out to each other "Don't look!" The bags are getting tangled with one child's walker and another's wheel chair. Their foster mum, who has brought her household of children to the Sale for several years, said, as she was scrambling to keep everyone together, "You just don't know how grateful I am. Last year, they were all so excited to give each other gifts. This is the best part of our Christmas!"
I hope I always remember that moment.
The Sale is not a fund-raiser of course, but we have very few expenses and at the end of the day the little hill of quarters is sent along to Arts Junktion and Art City – organizations that provide materials and opportunities for children to participate in creative activities in safe spaces. This year, the donation to each organization will be just over $200. We have a sale table for adults in the refreshment room that offers items appealing more to adults than children and the funds raised there go to Bell Tower. That topped $200 this year, too.
Thank you, Westminster and friends.
---
The Wider Church
Westworth's Lessons & Carols Service Sunday, Dec. 16 at 7:00pm. Includes our Senior and Cherub Choirs plus Westworth Winds. Please join us at 1750 Grosvenor Avenue!
---
The Longest Night Service
Friday, December 21, 7:00 pm, Fort Garry United Church, 800 Point Road. A service of Remembering!
Feeling sad or lonely at this time of the year? You are not alone. In this service of remembrance, we will turn to God, the source of hope and healing while naming our losses.
---
Sanctuary flowers
The flowers in the Sanctuary are generously donated in loving memory of:
Betty Halstead: from Roy Halstead
family and friends: Bob & Ann Peeler
Agnes Aikens: Judy Hill
Myra Davidson: from Mary Ann Taylor
family and friends: from Patrick Chicoine
Charlotte Thiem, Frieda & Reinhard Thiem: from Annette Kletke
Marilyn Huband, Henry Schellenberg and May Audrey Hardy (Susie's Mother): from Thomas & Susie Conrad
Jack & Marion Abra; Jim & Shirley Williamson; Norma Schnerch: the Abra Family
Dalis Kendall, Dorcas Kendall, Desdemona Walter: from Philistina Howard
Ernest Mort, beloved husband and father: from the Mort family