Welcome today!
Guest Preacher, Michelle Owens, Principal of the Centre for Christian Studies
The Centre for Christian Studies is a national theological school based in Winnipeg (just up the street at 60 Maryland St). CCS has connections to the United Church of Canada and the Anglican Church of Canada, and provides theological education for those becoming diaconal ministers in the United Church of Canada, and educational opportunities for anyone interested in exploring leadership and faith/spirituality. CCS describes itself as a school, a community and a movement that seeks to educate leaders for justice, compassion and transformation.
Michelle joined the Centre for Christian Studies as principal in August 2017. She is a graduate of the Centre and a diaconal minister in the United Church of Canada. Michelle came to Winnipeg from Ontario, where she served as London Conference's Personnel Minister. Prior to that, she had served in a three point rural charge in Perth County, Ontario, and had been a candidate for ministry from Trinity St. Paul's United Church in Toronto.
This week in the Winnipeg Presbytery prayer cycle we remember the clients and staff of West Broadway Community Ministry and the Winnipeg Presbytery staff.
'These Days'
The summer edition of These Days devotional books are now available on the narthex and hall tables. There are also a small number of large print copies available. To place a copy on hold, please call the office.
---
This Week at Westminster
Sunday, June 17
• Morning Worship, Sanctuary: 10:30 to 11:30 am
• Maggie's Quilt Show, Lecture Hall: after church
• Nathan Poole studio recital, Sanctuary: 2:00 pm
Monday, June 18
• Stevenson Management AGM, Lecture Hall: 6:30 pm
Tuesday, June 19
• Staff, Bistro Dansk: 12:00 to 1:00 pm
• Tai Chi, Lecture Hall: 5:30 to 6:30 pm
• WUC Board meeting, Library: 7:00 pm
Wednesday, June 20
• Families Anonymous, Library: 1:00 to 3:00 pm
• Balmoral Hall Sr. Closing Ceremony, Sanctuary: 9 to 11:30 am
Thursday, June 21
• Balmoral Hall Jr. Closing Ceremony, Sanctuary: 9 to 11:30 am
• Tai Chi, Lecture Hall: 5:30 to 6:30 pm
Sunday, June 24
• Morning Worship & Baptism, Sanctuary: 10:30 to 11:30 am
Also:
Today
• Rev. Sherri is attending meetings in London, ON
Sunday June 24
• Baptism of Grayson Michael Mendres (parents: Jessica and Michael Mendres)
Sherri's Summer plans
• Continuing Education: Monday June 25 to Sunday July 1/18
Holidays: July 2 to August 6/18 inclusive (back on Tuesday August 7). Thanks to Rev. Don McIntyre for providing the services of worship and pastoral care while Sherri is away.
---
Thinking about your summer reading list?
The Inner and Outer Connections committee will be offering 3 "book study" evenings this coming fall/winter (dates/times tba). Books that will be discussed:
The Pagan Christ: Recovering the Lost Light (2004), by Tom Harpur
Grounded: Finding God in the World—a spiritual revolution (2015) by Diana Butler Bass
Grateful: The Transformative Power of Giving Thanks (2018), by Diana Butler Bass
Why not get a jump start on your reading, and do some spiritual exploring at the same time? Happy summer reading!
Sports
Is it possible for a 3-person team to lose 21 golf balls and win the Twenty-first Westminster Open Golf Tournament by eight strokes? The answer is a resounding "Yes," as was so capably demonstrated by the team of Greg Blanco, Delmar Epp and Russ Blanco. The tournament dinner was attended by 33 patrons. The event produced $2405 for Westminster.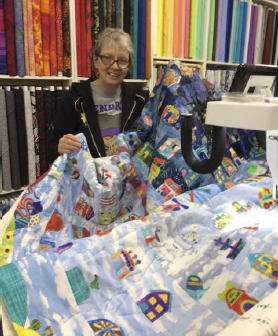 Maggie's quilt
Margaret Hodson has been working on a quilt, while recovering from cancer through the last year. She has brought it here today, and she invites you the congregation of Westminster Church to celebrate its completion. Please join us in the lecture hall for cake and refreshments, and to view the quilt following this morning's service.
Rock Lake United Church Camp
Rock Lake United Church Camp is slowly coming to life as we prepare for another fantastic summer of fun. If you haven't gotten your registration in, be sure and go on-line at www.rocklake.com and sign up right away! You can also call (204)825-2553 or email: camp@rocklake.com for more information. You can register by snail mail by writing to Box 395, Crystal City, MB R0K 0N0. We are almost ready. All we need is you! We are also looking for youth from 14 to 18 to be Camp Counsellors. If you are fun, enthusiastic and energetic, and love kids and the outdoors you could have the best summer ever! Counsellor applications are available at www.rocklake.com or email: camp@rocklake.com. Join the fun and learning!