West Broadway Community Ministry
This week we hold in our thoughts and prayers, the congregation and staff of Young United Church. Summer is here. But poverty doesnt take a holiday. The cupboards at West Broadway Community Ministry are very low on staples. Please help us out if you can. We need canned meats, canned soup, Kraft dinner, peanut butter, canned fruit and vegetables, pork and beans and breakfast cereal. We are open weekdays from 9-5 except Tuesdays. We are at 222 Furby Street.
Office admin note: Summer is especially hard on families who rely on school breakfast and lunch programs for their children. Please remember these families on your next shopping trip.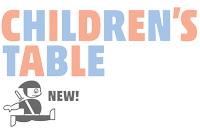 All children are invited to gather at the Children's Table following the anthem for a quiet activity to help them engage in and experience the gospel message while allowing them to move around and explore in ways that come naturally to them.
In this week's Gospel reading we hear of Jesus' friends being told to "Go and show god's love." Today at the Children's Table, make a Giving Pocket to help remind you of ways that you can also "go and show God's love."
For more information about the Children's Table contact Teri Skakum, Child and Family Coordinator, at teri@165.227.34.127
Anniversary Events
Sunday Sept. 24
• Special Anniversary service with guest speaker Mary Scott speaking about Women and the Westminster Church Community
Saturday Oct. 21
• Anniversary Dinner 5:30 pm (dinner at 6) Norwood Hotel, Marion St., Main floor Ballroom (easy access). Tickets available in the office or from Helen LaRue or Ted Barnett…$50.00 /$55.00 after Sept. 10, 2017
Saturday Oct. 28
• Westminster Congregational Workshop with John Pentland
Sunday Oct. 29 10:30 am
• Guest Preacher, John Pentland
Sunday Oct. 29 7pm
• An Evening with John Pentland (public lecture, all welcome)
Sunday Nov. 5 10:30 125th
• Anniversary Service, with Guest Preacher Devon Clunis (retired Winnipeg Police Chief) and a special presentation from our choir and guest instrumentalists.
Help Wanted
Westminster United Church is seeking an individual to work as its Events Coordinator, 15 hours per week, effective immediately. For more information, please contact either of the Co-Chairs of the Ministry & Personnel Committee, Fred Aoki – 204-488-2236, aokify@cc.umanitoba.ca or Richard Scott – 204-888-2996, richard_scott@shaw.ca.
Facebook
Are you on Facebook? Westminster is too! Be sure to "Like" and "Follow" our page. Each week we post upcoming events, from the choir anthem and solos, to the theme for the children's activity, as well as many other activities taking place.
Help us get 300 Likes!
This Week at Westminster
Monday, June 19
• Balmoral Hall Senior closing exercises, 7 am
Tuesday, June 20
• Tai Chi, lecture hall 5:30 6:30 pm
• Board meeting, library 7:00 pm
Wednesday, June 21
• Balmoral Hall Junior rehearsal, 8 am
• Families Anonymous, library 1:00 3:00 pm
• Stevenson Mgmt. lecture hall 6:30 8:30 pm
Thursday, June 22
• Balmoral Hall Junior closing exercises, 8 am
• Quilters, library 10:30 2:30
• Tai Chi, gym 5:30 6:30 pm
• Wedding rehearsal 6 pm
• AlAnon, library 7:00 8:00 pm
Saturday, June 24
• Wedding 11:30 am
Sunday, June 25
• Morning worship 10:30 am
Transcona Memorial United Church
Transcona Memorial United Church's renovations are complete! We are opening our doors for tours on Friday mornings in June from 10 – 12. Everyone is welcome!