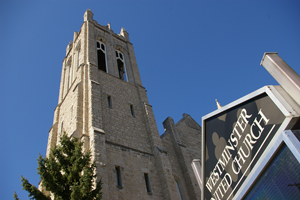 Random notes …
This week in the Winnipeg Presbytery prayer cycle we remember the clients and staff of Aurora Family Therapy Centre.
A Belated Happy Birthday to Bernice Mort! She turned 91 yesterday. (Sorry Mrs. Mort, John made me do it:))
Tonight at Westminster: Anniversary Service, 7pm Jazz Vespers with musicians from the University of Manitoba.
Westminster's famous mincemeat will be on sale on Sunday November 25 following the service. Don't miss the opportunity to get your supply. Price remains unchanged at $6.00 a tub.
United Church calendars are for sale in the church office. Just $5 each in support of Mission and Service.
Upcoming Worship Services
25 November 2018, Stewardship Sunday 1
2 December 2018, Stewardship Sunday 2, Advent 1 and Communion
Nathan's notes
Happy Anniversary Westminster Church! To celebrate this morning, the choir is singing "O Clap your Hands" by Martin Shaw, the same composer of the much loved anthem "With a Voice of Singing."
As many of you know, Westminster had a tradition of hearing "With a Voice of Singing" every fall, on the first Sunday the choir was back from summer break. This tradition was continued this year, as the choir opened with the much loved (and mostly memorized) favourite.
This evening the church is returning to another tradition, an evening service. And as Westminster is so proud of its music, I do hope you all come back to experience how jazz can transform, and buttress our tradition of genuine worship.
---
This Week at Westminster
Sunday, November 18
• Morning Worship, Sanctuary: 10:30 to 11:30 am
• Jazz Vespers Service, Sanctuary: 7:00 pm
Monday, November 19
• Sparks, Lecture Hall: 6:30 to 7:30 pm
• Brownies, Concert Hall: 6:30 to 8:00 pm
• Guides, Gym: 6:30 to 8:00 pm
• Pathfinders, Board Room: 6:30 to 8:30 pm
Tuesday, November 20
• Knitters, Chapel: 10:00 to 12:00 am
• Staff, Library: 12:00 to 1:00 pm
• Tai Chi, Lecture Hall: 5:30 to 6:30 pm
• Board Meeting, Library: 6:30 to 9:30 pm
• Beavers, Concert Hall: 6:30 to 7:45 pm
• Cubs, Gym: 6:30 to 8:00 pm
• Venturers, Board Room: 6:30 to 8:30 pm
Wednesday, November 21
• Families Anonymous, Library: 1:00 to 3:00 pm
• Scouts, Gym: 6:30 to 8:00 pm
Thursday, November 22
• Quilters, Library: 10:30 am to 2:30 pm
• Tai Chi, Lecture Hall: 5:30 to 6:30 pm
• Choir, Sanctuary: 7:00 to 8:30 pm
Friday, November 23
• Centering Prayer: 10:00 am to 12:00 pm
Saturday, November 24
• Mincemeat making, Kitchen: 8:00 am to 12:00 pm
Sunday, November 25
• Morning Worship, Sanctuary:10:30 to 11:30 am
---
Westminster Children's Christmas Sale
Our annual Westminster Children's Christmas Sale  is happening on December 8. You make it happen by donating items such as costume jewelry, toiletries, knitting, stationery, household items, cups and saucers, mugs, stuffed toys, books, perfume, games, puzzles, ties, ornaments, candles — anything you think a child might like to give to family members or friends. We also need gift bags, ribbon, and tags. Please be sure that your items are in new condition. Please drop off your donations at the Church office or leave them with a caretaker.  To volunteer, please call the church office at 204-784-1330.Thank you for your support in this Outreach to our community.
---
Taxi!
The Westminster Taxi fund was set up to allow folks who find it difficult to make their way to church, the ability to come on Sundays at no cost to them. Please remember this important outreach to our church family.
---
Westminster Centering Prayer: all are welcome!
Have you ever wished you had a little more stillness in your life? Maybe you have been searching for a new spiritual practice? Well, the Westminster Centering Prayer group might be the place for you!
The Westminster Centering Prayer Group meets monthly from 6 to 7 pm in the Chapel. This is an open group and all are welcome! No previous experience is necessary. If you have ever been curious or interested in Centering Prayer, you are welcome. Upcoming Dates for Westminster Centering Prayer Group:
Wednesday 12 December 2018, 6:00 pm to 7:00 pm
Email or call the church office if you have any questions, to let us know if you plan to attend. Hosted by the Inner and Outer Connections Committee.
---
Gifts with Vision catalogue
The 2018-2019 Gifts with Vision catalogues have arrived! A great way to give to those in need and do your Christmas shopping at the same time! You can help folks in Oxford House to buy groceries (pg. 13) or provide warm clothes and a meal (pg 15) here in Winnipeg at one our Community Ministries. There are many other opportunities for giving across Canada or around the world. Catalogues can be found on the tables in the narthex or hallway or shop online at giftswithvision.ca.
---
Renaissance Voices in Sing Joyfully
Join Renaissance Voices in Sing Joyfully, the chamber choir's annual Advent concert, November 30 and December 1st at Young United Church. Under the direction of Dr. Janet Brenneman, this uplifting seasonal program includes works by favourite Renaissance composers William Byrd, Orlando di Lasso, and Hans Leo Hassler as well as contemporary motets from composers Hugo Distler and William Matthias. Singer and composer Jesse Krause will present the world premier of his vibrant and glorious Maginifcat.
This year the choir welcomes special guest organist Lottie Ens Braun who will perform masterworks of J. S. Bach, Johannes Brahms and Canadian composer Denis Bédard.
As always, the concert will take place in our warm candle lit atmosphere in cabaret style seating, with mulled wine and hot apple cider ready to welcome you into the holiday season. Doors open at 7:30 pm. Concert at 8 pm. Tickets are $25 for adults and $15 for students. Available from McNally Robinson Grant Park and from choir members.
---
John Black Memorial Christmas Tea & Sale
John Black Memorial United Church, 898 Henderson Hwy; Annual Christmas Tea & Sale; Saturday, December 1st, 10:00 am to 2:00 pm; home baking, pies, crafts, children's Christmas shopping room, tea room; lunch $7.00.
---
Holiday Craft Show
Join us for a Holiday Craft Show on December 8, 10-3PM. Choose gifts from a variety of great vendors, Sunset Gourmet, Tiber River, Tupperware, Pampered Chef, Purses Etc, ZenEclectic Jewelry, to name a few. If you have something you'd to stop by and get some great gifts.
---
Canzona at Westminster Church
Canzona, Winnipeg's Baroque Choir will be performing at Westminster Church on December 7, 2018 at 7:30 pm. in collaboration with the renowned Pacific Baroque Orchestra, these performances will mark the first time Bach's masterful Christmas Oratorio has been performed in Manitoba on period instruments. Featuring an all-star cast of soloists including Tracy Dahl.
---
The Winnipeg Singers: In Winnipeg It's Christmas
The Winnipeg Singers presents In Winnipeg It's Christmas, on Sunday December 9, a celebration of the season with choral works written by Manitoba and Canadian composers. Get in the Christmas spirit with familiar carols, including works by W. H. Anderson, Esther Beresford, Jesse Krause, and a newly commissioned work by our own Michael McKay. Tickets available online, at McNally Robinson or at the door. Adult $30, Senior $25, under 30 $15.
---
Memory Tree
The Memory Tree will be in the sanctuary from early November to January 31, 2019. Order forms, to purchase Memory Stars, are in the narthex and the back hallway.
---
The deadline for Christmas Season bulletins is December 12. Please email your submissions to Marilyn at info@westminsterchurch.org.
---
The mitten tree!
The mitten trees will be up soon! Your donations of new mittens, scarves, toques, gloves, socks and other clothing to keep folks warm, will be distributed to Westminster Child Care Centre, Mulvey School, West Broadway Community Ministry and others in the New Year.