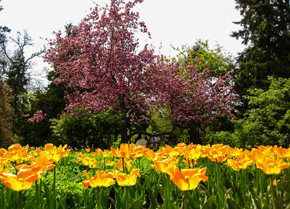 Prayers and Praise
We send our love and prayers to Jim and Jan Christie and family on the recent death of their son, Charlie. Arrangements are pending.
The Twenty-Second Westminster Open Golf Tournament is scheduled for TUESDAY, JUNE 4 at River Oaks Golf Course. Please mark your calendars.
Thank you, Rev. Don McIntyre for leading worship this morning.
Rev. Sherri returns to the pulpit next Sunday.
From Container to Table
'From Container to Table: Grow edibles on your balcony or patio,' presented by Ken Land, St. Mary's Nursery and Garden Centre. This Community Health and Wellbeing Program will take place at Temple Shalom, 1077 Grant Ave. at 1:30, Wednesday, June 5, 2019. All are welcome, especially those over 55. Entrance is free. Refreshments provided.
This Week at Westminster
Sunday, May 19
• Morning Worship, Sanctuary: 10:30 to 11:30 am
Monday, May 20
• Victoria Day, building closed
Tuesday, May 21
• Knitters, Chapel: 10:00 am to noon
• Staff, Library: 12:00 to 1:00 pm
• Tai Chi, Lecture Hall: 5:30 to 6:30 pm
• Beavers, Concert Hall: 6:30 to 7:45 pm
• Cubs, Gym: 6:30 to 8:00 pm
• Venturers, Board Room: 6:30 to 8:30 pm
Wednesday, May 22
• Families Anonymous, Library: 1:00 to 3:00 pm
• Scouts, Gym: 6:30 to 8:00 pm
Thursday, May 23
• Quilters, Library: 10:30 am to 2:30 pm
• Tai Chi, Gym: 5:30 to 6:30 pm
• Manitoba Chamber Orchestra, Sanctuary: 7:30 pm
Sunday, May 26
• Morning Worship, Sanctuary: 10:30 to 11:30 am
---
Westminster Church Walkathon : Big Steps for Little Kids
The Inner & Outer Connections Committee (formerly Outreach) invites fit & active members of the congregation to take part in a Walkathon in support of Mulvey School and Westminster Daycare on Sunday June 2nd, 2019. The objective is to raise $1,500 for reading programmes and other enrichment activities and for indoor shoes. We ask participants to solicit sponsorships from families, friends and acquaintances, as well as from the congregation of Westminster Church. Anyone wishing to enjoy the walk and fellowship without soliciting sponsorships can do so for a $10 donation.
Following a light lunch at the Church on Sunday June 2nd, participants will gather at the home of Carol Harvey, 132 Riverbend Crescent at 1:00 p.m. Our route starts on Riverbend Crescent, then heads West on the footpaths alongside the Assiniboine River, across the Assiniboine Park footbridge, then East through the Park and along the Wellington Crescent footpaths back to the starting point.
This is a lovely, leafy circuit of approximately 5 kilometers. Children welcome. The walk ends at Carol's home for light refreshments and fellowship.
---
Nathans Notes
Let the Bright Seraphim is perhaps the most famous aria from the oratorio Samson, written by Messiah composer George Frideric Handel. Angel fact: the Seraphim are an order of angels- the highest level, in fact! So here, in order of rank are all the levels of angels: Seraphim, Cherubim, Thrones, Dominions, Virtues, Powers, Principalities, Archangels, and finally Angels. The more you know!
---
Manitoba Marathon
Sunday, June 16, 2019 will mark the 41st running of the Manitoba Marathon, the premier fund raising event for Manitobans living with an intellectual disability. During the
race it will be necessary to temporarily close some streets, while others will have traffic restrictions. The total time of the event as it winds along the 26.2 mile route is from 7:00 am 1:00 pm. Depending on your location along the route, your drive to church may or may not be affected. Route maps are available on the narthex and hallway tables or online at
manitobamarathon.mb.ca/wp-content/uploads/2019/05/2019_marathon_route_map.pdf
---
Renaissance Voices
Join Renaissance Voices chamber choir for their spring concert A Garden of Song: Motets, Madrigals and a Mass on Sunday, May 26th at 3 pm at Young United Church, 222 Furby Street. Enjoy our colourful garden setting as the choir performs favourite works by Byrd, Gibbons, Morley and Quick. We offer intimate café style seating and refreshments. Tickets are $25 for adults/$15 for students and are available from McNally Robinson's Booksellers, choir members and at the door.
---
Above photo by unknown author is licensed under CC BY-SA-NC