Random notes …
Our condolences to Loretta Basiuk and family on the death of her mother, Lena Basiuk. The funeral will take place next week.
Condolences also to Cheryl Drachuk and her family on the death of her sister, Elaine.
This week in the Winnipeg Presbytery prayer cycle we remember the congregation and staff of Spirit Path Church.
Mission, Vision and Values Conversation Today!
Come join us for an open, friendly conversation about who Westminster is as we work towards a promising future….11:45 – 12:45 in the chapel; led by Carol Latter (board chair) and Rev. Sherri. If you can't join us today, the next one is November 4. If you aren't able to attend either session, please send us your responses and thoughts to info@westminsterchurch.org.
Vision, Mission, and Values Statements
Tag Line: Moving forward in a tradition of service
VISION / To be a vibrant, diverse, engaged and sustainable church that make meaningful connections in the community
MISSION / Westminster: inspiring people to love others as Christ loves them; fostering a sense of belonging and community
VALUES / a) Welcoming and embracing; b) Intentional Worship and Faith development; c) Committed to Community engagement; d) Founded in peace, compassion and generosity or Spiritually grounded in peace, compassion and generosity; e) Environmentally conscious.
---
Book Study Session
Happening next week! Please call the office to register!
The Pagan Christ, by Tom Harpur. It's a bit controversial — some find The Pagan Christ inspiring and life changing; some find it questionable. Let's talk about this book together, in an open and non-judgmental environment, and you can explore what you think! Same workshop, two dates to choose from:
Sunday Oct. 28, 2018 11:45 to 1:15
Thursday Oct. 25, 2018 1:30 to 3:00
Please call the church office to register: 204-784-1330 Books are in stock at Chapters (St. Vital) or can be purchased from amazon.ca and chapters.indigo.ca. A few copies are also available at the Winnipeg Public Library.
---
SAVE THE DATE!
November 18th: Anniversary Service at 7:00 pm … more details to follow.
---
Westminster Children's Christmas Sale
Our annual Westminster Children's Christmas Sale is happening on December 8. You make it happen by donating items such as costume jewelry, toiletries, knitting, stationery, household items, cups and saucers, mugs, stuffed toys, books, perfume, games, puzzles, ties, ornaments, candles – anything you think a child might like to give to family members or friends. We also need gift bags, ribbon, and tags. Please be sure that your items are in new condition. Please drop off your donations at the Church office or leave them with a caretaker. Thank you for your support in this Outreach to our community.
---
Taxi Fund
Westminster's Taxi Fund provides transportation to our Sunday morning Worship services for those who are unable to get here on their own. Please remember this important ministry. Donations can be made in the offering plate or by calling the church office.
---
This Week at Westminster
Sunday, October 21
• Morning Worship, Sanctuary: 10:30 to 11:30 am
Monday, October 22
• Sparks, Lecture Hall: 6:30 to 7:30 pm
• Brownies, Concert Hall: 6:30 to 8:00 pm
• Guides, Gym: 6:30 to 8:00 pm
• Pathfinders, Board Room: 6:30 to 8:30 pm
Tuesday, October 23
• Knitters, Chapel: 10:00 to 12:00 am
• Staff, Library 12:00 to 1:00 pm
• Tai Chi, Lecture Hall: 5:30 to 6:30 pm
• Beavers, Concert Hall: 6:30 to 7:45 pm
• Cubs, Gym: 6:30 to 8:00 pm
• Venturers, Board Room: 6:30 to 8:30 pm
Wednesday, October 24
• Families Anonymous, Library: 1:00 to 3:00 pm
• University of Manitoba Orchestra, Sanctuary: 7:30 pm
Thursday, October 25
• Quilters, Library: 10:30 am to 2:30 pm
• Book Study, Chapel: 1:30 to 3:00 pm
• Tai Chi, Lecture Hall: 5:30 to 6:30 pm
• Choir, Sanctuary: 7:00 to 8:30 pm
Saturday, October 27
• Manitoba Liberal Association Social, Concert Hall: 7:00 pm
Sunday, October 28
• Morning Worship, Sanctuary: 10:30 to 11:30 am
• Book Study, Chapel: 11:45 to 1:30 pm
• Adam Brakel Organ Recital, Sanctuary: 2:30 pm
---
Westminster Centering Prayer
Have you ever wished you had a little more stillness in your life? Maybe you have been searching for a new spiritual practice? Well, the Westminster Centering Prayer group might be the place for you! The Westminster Centering Prayer Group meets monthly from 6 to 7 pm in the Chapel. This is an open group and all are welcome! No previous experience is necessary. If you have ever been curious or interested in Centering Prayer, you are welcome. Upcoming Dates for Westminster Centering Prayer Group:
Wednesday, 14 November 2018, 6:00 to 7:00 pm
Wednesday, 12 December 2018, 6:00 to 7:00 pm
Email or call the church office if you have any questions, to let us know if you plan to attend. Hosted by the Inner and Outer Connections Committee
---
THE WIDER CHURCH
The 2018/19 Gifts with Vision catalogues have arrived! A great way to give to those in need and do your Christmas shopping at the same time! You can help folks in Oxford House to buy groceries (page 13) or provide warm clothes and a meal (page 15) here in Winnipeg at one our Community Ministries. There are many other opportunities for giving across Canada or around the world. Catalogues can be found on the tables in the narthex or hallway or shop online.
---
CPUC Applebee's Pancake Breakfast!
Saturday, October 27th, 8:00 am to -10:00 am. Tickets are available: $15 for adults, $6 for kids. Come down and enjoy a short stack for a tall cause! Get you tickets by contacting the Churchill Park United Church office at 204-452-8561 or office@churchillparkunited.ca.
---
Around the World in Song
Fort Garry United Church, 800 Point Road
Fundraiser concert, Saturday, 27 October 2018, at 7:00 pm. Come out and enjoy the sounds of our FGUC Choir, The Divas, & friends. It's a great community of music, great listening, free refreshments, prize draws. Get your tickets in advance, or at the door $20, children under 12 free. Everyone Welcome! Call the office 204-475-1586 or email fguc@shaw.ca to reserve your tickets!
---
Broadway-First Baptist Ladies Conference
Saturday October 27th Ladies Conference hosted by Broadway-First Baptist church and Shalom on forgiveness, facilitated by Faith Holwyn. The conference is free and includes meals and child care. However, we do require ladies to register BY OCTOBER 15 so we can plan appropriately. Ladies from different churches will be attending.
---
Crescent Fort Rouge Fall Supper
The Crescent Fort Rouge United Church Annual Fall Supper on Saturday, October 27th will be held at Churchill Park United Church, 525 Beresford Avenue, in their fully accessible upstairs hall. See the posters for more information.
---
IN OUR COMMUNITY
Friday, October 26th a presentation by Joy Smith: Human Trafficking: Canada's Secret Shame. There will be refreshments following the presentation, and a time to speak with Joy. There is no cost for this event, but there will be an opportunity to donate to Joy's foundation. In addition, there will be a table display with books and video for sale. Men as well as women are encouraged to attend. Starts at 7 pm, in the sanctuary at Broadway-First Baptist church.
In Memoriam: RCCO Choral and Organ Evensong Celebrating the lives of Winnipeg organists on Sunday, November 4, 4 pm at St. John's Cathedral, 135 Anderson Ave. Presiding: Rev. Tanis Kolisnyk. Choir Director: Dietrich Bartel. Organists: members of the RCCO, featuring Canticles by Charles Stanford, Anthems by Eleanor Daley and Gabriel Faure. All are welcome.
---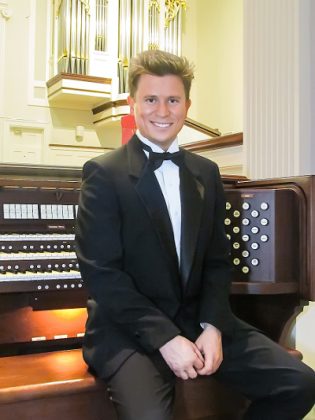 Adam Brakel in concert!
Adam Brakel will open the 30th season of the Westminster Concert Organ Series. The spell-binding performances of Adam J. Brakel have led to his being compared to Liszt, Gould, Bernstein, and Paganini. Join us on Sunday, October 28th, at 2:30 pm for the season-opener of the 30th season of the Organ Series. Tickets are $25, with reduced prices for seniors and students.
---
Make Poverty History
This civic election, call on the City to lead. Find out more.