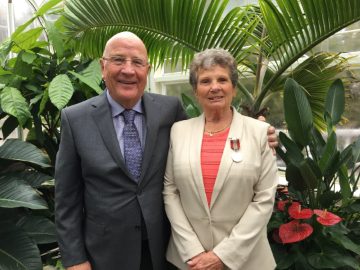 Thank you, and congratulations!
Thank you to Rev. Don McIntyre for filling in at the pulpit today. Sherri returns next week. And … congratulations to Valerie McIntyre who received the Sovereign's Medal for Volunteers on Tuesday, April 17, 2018 at Rideau Hall in Ottawa. The medal was presented by Her Excellency, the Right Honourable Julie Payette, Governor General of Canada.
Golf tournament
The 21st Westminster Open Golf Tournament is scheduled for TUESDAY, June 5. Please mark your calendar.
This week we hold in our thoughts and prayers Transcona Memorial United Church.
Fall supper: save the date!
Saturday, 20 October 2018. Westminster's Fall Supper here at the church. Planning is underway! See Helen La Rue for more informtion.
Iridesce
Sunday, May 6th, at 10:00 am, Iridesce: A Living Apology project seeking to inspire, and reconcile people of diverse sexual, romantic, and gender expressions and identities within The United Church, Presented by Affirming Ministry and with Aaron Miechkota, at Churchill Park United Church (525 Beresford Ave) Worship at 10a.m. lunch is 11:30a.m. to 1p.m. Workshop at 1:00 pm to 4:00 pm. Vegetarian and gluten-free options available. Please register for lunch at
https://www.churchillparkunited.ca/iridesce.
---
This Week at Westminster
Sunday, April 22
• Morning Worship, Sanctuary: 10:30 to 11:30 am
• Communications Committee, Chapel: 12:00 pm
Monday, April 23
• Sparks, Lecture Hall: 6:30 to 7:30 pm
• Brownies, Concert Hall: 6:30 to 8:00 pm
• Guides, Gym: 6:30 to 8:00 pm
• Pathfinders, Library: 6:30 to 8:30 pm
Tuesday, April 24
• Knitters, Chapel: 10:00 to 12:00 am
• Staff, Library: 12:00 to 1:00 pm
• MCO matinee, Sanctuary & Lecture Hall: 1:00 to 2:00 pm
• Tai Chi, Gym: 5:30 to 6:30 pm
• Venturers, Board Room: 6:30 to 8:30 pm
• MCO concert, Sanctuary (et al.): 7:30 pm
Wednesday, April 25
• Families Anonymous, Library: 1:00 to 3:00 pm
• Scouts, Gym: 6:30 to 8:00 pm
Thursday, April 26
• Quilters, Library: 10:30 am to 2:30 pm
• Tai Chi, Lecture Hall: 5:30 to 6:30 pm
• Choir, Sanctuary: 7:00 to 8:30 pm
Sunday, April 29
• Morning Worship, Sanctuary: 10:30 to 11:30 am
• OPUS 2018 concert, whole building: 3:00 pm
---
Muffin & cookie request
Request for muffins and cookies for Conference Annual Meeting, May 24-27, 2018. The annual meeting weekend of the conference of Manitoba and Northwestern Ontario is rapidly approaching and we are still in need of donations for the nutritional breaks and volunteers to help in the book room. We are requesting approximately 4 dozen muffins and 8 dozen cookies from each congregation for the delegates to enjoy during the breaks.
It would be helpful if muffins and cookies:
Contain NO nuts
No icing
Some muffins or cookies can be sugar free and some gluten free (please label)
Please also consider assisting with the United Church book table (Thursday evening, Friday and Saturday – volunteers will be able to see and hear speakers at the conference while at the book table) or agreeing to billet conference delegates. If you are able to help with these requests, please contact: Sheron Miller 204-668-5117 miller01@mymts.net OR Conference Office 204-233-8911 office@confmnwo.mb.ca.
An evening with Dr. Niigaan Sinclair
Topic: 'The Winter of Loss: A Discussion of What Reconciliation Looks Like Now.' Join us at Westminster United Church (745 Westminster Ave.) on Wednesday, May 2, 7:30 PM to In the Sanctuary. We will be taking a Free Will Offering at the door in support of a student scholarship for the Native Studies Department at the University of Manitoba.