Random notes …
Thank you Lynne Mavins for accompanying our worship service today.
A celebration of life for Allan Denton was held in the Lecture Hall this past Wednesday. Rev. Sherri McConnell presided.
A big thank you from the Membership and Fellowship Committee to all the people who helped make the lunch last week so successful! It was great to see everyone enjoying the food and conversation and the desserts were wonderful!
This week in the Winnipeg Presbytery prayer cycle we remember the United Centre for Theological Studies at the University of Winnipeg.
Nathan's Notes
A few years ago the choir performed "Rejoice in the Lamb" by English composer Benjamin Britten. It's a fun piece- the music is dynamic, and the text is really lovely. It's tough though. Throughout the piece, the music changes time- the beat, or tempo stays the same, but the groupings of those beats changes. It can be a nightmare! Imagine trying to dance a waltz, but every time you get to the first beat, it's been shifted.
It took the choir several weeks of rehearsals to master the toughest section- but with the right amount of time, and some great leadership from our soloists we mastered our notes and changing times.
I sometimes feel that even though some things remain the same here at Westminster, we are facing and feeling a new kind of beat and tempo. Our congregation is getting smaller, as is our choir- but new opportunities are emerging. Our leadership is rehearsing with us to master and face tough challenges, and above all our core remains the same- we love our music, and our worship, and that will never change!
These Days
These days, Daily Devotions for Living by Faith, have arrived. Copies are available on the hall and narthex tables, including LARGE PRINT.
---
This Week at Westminster
Sunday, September 23
• Morning Worship, Sanctuary: 10:30 to 11:30 am
Monday, September 24
• Sparks, Lecture Hall: 6:30 to 7:30 pm
• Brownies, Concert Hall: 6:30 to 8:00 pm
• Guides, Gym: 6:30 to 8:00 pm
• Pathfinders, Board Room: 6:30 to 8:30 pm
Tuesday, September 25
• Knitters, Chapel: 10:00 to noon
• Staff, Library: 12:00 to 1:00 pm
• Tai Chi, Lecture Hall: 5:30 to 6:30 pm
• Beavers, Concert Hall: 6:30 to 7:45 pm
• Cubs, Gym: 6:30 to 8:00 pm
• Venturers, Board Room: 6:30 to 8:30 pm
Wednesday, September 26
• Families Anonymous, Library: 1:00 to 3:00 pm
• Stewardship Committee, Library: 6:15 pm
• Scouts, Gym: 6:30 to 8:00 pm
Thursday, September 27
• Quilters, Library: 10:30 am to 2:30 pm
• Tai Chi, Lecture Hall: 5:30 to 6:30 pm
• Choir, Sanctuary: 7:00 to 8:30 pm
Sunday, September 30
• Morning Worship, Sanctuary: 10:30 to 11:30 am
---
Westminster Fall Supper
Saturday, October 20: Westminster Fall Supper at the Church. Turkey and pie! Tickets are available after church or from the church office. Adults $20/Children (5-12) $10/ Children under 5 eat for free.
Westminster's Taxi Fund
Westminster's Taxi Fund provides transportation to our Sunday morning Worship services for those who are unable to get here on their own. Please remember this important ministry. Donations can be made in the offering plate or by calling the church office.
Upcoming Worship Services
Sunday Oct. 7 2018 Thanksgiving and World Wide Communion Sunday. Food donations will be gathered for West Broadway Community Ministry Food Pantry Sunday Oct. 14 2018 Special Presentation by Lynda Trono and Friends from West Broadway Community Ministry (WBCM). Food donations will be gathered for WBCM Food Pantry West Broadway. Top Ten Most Wanted Items:
Canned tuna or salmon in water
Canned chicken or turkey
Canned fruit and vegetables
Canned stew, chili, brown beans
Peanut butter and jam
Pasta (family and individual sizes)
Rice (brown, converted, parboiled)
Canned spaghetti sauce or tomatoes
Canned soup (lentil, pea, vegetable)
Kraft Dinner
Front Steps Update
We know it seems like it's taking forever, but progress is being made on the front step rebuild. MCR Masonry has been doing a great job and have been excellent to work with. They have been crafting new foundations for the limestone steps that are currently being cut at Gillis Quarries. The stonework on the sides of the stairs has been repointed and repaired. Another step in the project is to replace the central railing that was not salvageable. Thanks for your patience. It is our hope that all but the railing will be complete by mid-October. The end result will be something we can be very proud of.
Mission, Vision and Values Conversation
Come join us for an open, friendly conversation about who Westminster is as we work towards a promising future … October 21st and November 4th, from 11:45 to 12:45, hosted by the board of Westminster. Watch for more details …
---
Westminster Centering Prayer
All are welcome! Have you ever wished you had a little more stillness in your life? Maybe you have been searching for a new spiritual practice? Well, the Westminster Centering Prayer group might be the place for you! The Westminster Centering Prayer Group meets monthly from 6 to 7 pm in the Chapel. This is an open group and all are welcome! No previous experience is necessary. If you have ever been curious or interested in Centering Prayer, you are welcome. Upcoming Dates for Westminster Centering Prayer Group:
Thursday October 11, 2018 6 – 7 pm
Wednesday Nov. 14, 2018 6 -7 pm
Wednesday Dec. 12, 2018 6 – 7 pm
Email or call the church office if you have any questions, to let us know if you plan to attend. Hosted by the Inner and Outer Connections Committee
What will happen at the Centering Prayer group?
The group begins at 6pm, and the facilitator will share some kind of gentle, initial reading, followed by a practice that will calm our minds and bodies and bring us into the present moment. This helps us to make space and creates the ambiance for us to welcome the presence and action of God within us.
When we are settled, we will ring a bell to begin the twenty minute Silent Centering Prayer period. To end the Centering Prayer period we will ring the bell once, pause, then again, pause, then one last time.
Lectio Divina: Next we will read a passage from the Bible or a Love Poem From God (Twelve Sacred Voices from the East and the West). We will ask you to pay attention to a word or phrase that grabs your attention or touches you in some way.
After everyone has spoken their word (or not as the case may be), we will ask another reader to read the same passage from the Bible or Love Poem from God. You will then be asked, if you so desire, to very briefly (one minute or less) tell us what the word or phrase meant to you or how it affected you. Silence is respected as well. After the third reading of the same passage or poem, a silent prayer or spoken prayer is welcomed.
We then close with the Lord's Prayer (various versions) at 7 pm.
---
THE WIDER CHURCH
Partners in Mission Gathering – October 20 Atlantic Garden City United Church, 9:00 am – 12:00 pm
You're invited to continue or begin being a partner in mission with 1JustCity on Saturday, October 20 from 9:00 am to 12 noon at Atlantic Garden City United Church (725 Atlantic Avenue). It will be a time of learning, sharing and planning for future opportunities to learn about social justice issues affecting all our communities. Please see the poster for more information >> Partners in Mission Please RSVP to tessa@1justcity.ca by October 14.
St. Andrew's River Heights Garage Sale
St. Andrew's River Heights United Church at 255 Oak Street in River Heights is having a GARAGE SALE on Friday, September 28 from 4-7pm and Saturday, September 29, 2018 from 9am – 3pm. Some sale items include books, small working appliances, furniture, ornaments, linens, treasures, tools, housewares and jewelry.
In Our Community
The Bell Tower Community Cafe has enjoyed a summer of beautiful BBQs and now that the leaves are beginning to fall, it's time to move inside for a meal of delicious soup, stew, chili and meatballs! You are invited to come and join the Bell Tower. Come for dinner or come to lend a hand. We are looking for more people to help unload and sort our food delivery from Winnipeg Harvest at 2PM, folks to cook a pot of soup or chili, hands to help build food hampers for the evening, drivers to assist with rides home and many other opportunities. Email Meaghan Pauls or call 204-250-6768 if you would like to learn more or join in. The next Bell Tower is Friday, October 5th. All are welcome!
Walk A Mile In My Shoes
West Broadway Community Ministry is hosting its annual Walk A Mile In My Shoes event on Sept 29th, 2018. This educational tour will be heading into a new neighbourhood this year and introducing participants to new sites and information. Every dollar raised goes to support WBCM, and its work ensuring that every person can access food and a place of safety when times are hard. Drop of registration forms (found on the hall and narthex tables) in person at 222 Furby Street, or head to our website and register online! We encourage people to have friends, family and colleagues sponsor their walk, as there are great prizes for top fundraisers!
Presentation by Joy Smith on human trafficking
Friday, October 26th a presentation by Joy Smith: Human Trafficking: Canada's Secret Shame. There will be refreshments following the presentation, and a time to speak with Joy. There is no cost for this event, but there will be an opportunity to donate to Joy's foundation. In addition, there will be a table display with books and video for sale. Men as well as women are encouraged to attend. Starts at 7 pm, in the sanctuary at Broadway-First Baptist church.
Ladies Conference
Saturday October 27th Ladies Conference hosted by Broadway-First Baptist church and Shalom on forgiveness, facilitated by Faith Holwyn. The conference is free and includes meals and child care. However, we do require ladies to register BY OCTOBER 15 so we can plan appropriately. Ladies from different churches will be attending.
In Memoriam
RCCO Choral and Organ Evensong Celebrating the lives of Winnipeg organists Sunday, November 4, 2018 at 4 pm at St. John's Cathedral, 135 Anderson Ave. Presiding: Rev. Tanis Kolisnyk Choir Director: Dietrich Bartel Organists: members of the RCCO Featuring: Canticles by Charles Stanford Anthems by Eleanor Daley and Gabriel Faure ALL ARE WELCOME\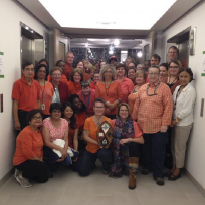 September 30 is Orange Shirt Day
Orange Shirt Day is an invitation for everyone to wear an orange shirt to remember and honour all the Indigenous children who went to Residential School and those children who died at school. On Sunday, September 30, wear an orange shirt and attend worship filled with compassion and the spirit of truth and reconciliation. (Photo credit: courtesy of Sara Stratton/The United Church of Canada.)
---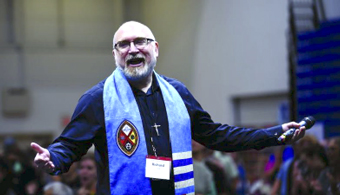 From the United Church Observer
Rt. Rev. Richard Bott was elected as new moderator of the United Church of Canada in July. (Credit: Richard C. Choe.) Meet your new moderator: Rt. Rev. Richard Bott
'He is one of the people who can actually build up a church' — by Christopher White
FAITH
September 2018
It was a delicate moment in the life of the United Church when Rt. Rev. Richard Bott, the new moderator, stood up to preach late on a Friday evening in July.
Just hours before his installation service, an extraordinary shift had happened at General Council. What was supposed to be a fairly straightforward final afternoon of passing motions was completely transformed and made sacred as people approached the microphones to share their personal experiences of racism and exclusion in the church.
Due to unfortunate timing, the moderator-elect was not in the court to hear it. He was in his residence room finishing his sermon for that evening. After learning what had happened, he quickly revised his notes. Bott's opening words went to the heart of the matter.
"I stand before you tonight as a person who has exactly one set of lenses: I am a white, middle-class, university-educated, able-bodied, middle-aged, cis-male settler who grew up and lives on unceded territory of the people of this land. I am the epitome of privilege."
With those words, the tension in the room eased, and there was a sense among the commissioners that they had elected a person who understood what was needed for the next three years.
Bott lives in Vancouver. He is divorced, and co-parents a 15-year-old daughter. The eldest of three children, he grew up in Marathon, Ont., a small town perched on the shores of Lake Superior. His parents, George and Joy, raised all their kids to have a strong sense of service to others. They say they weren't surprised when their son, now age 50, entered the ministry and was ordained in 1994.
"We had a good, strong suspicion that this was the direction his life was going to take," his father says. "He went through a whole period of hearing the knocking on the door and ignoring it." His mother emphasizes his skills as a listener: "He has gifts of communication and connecting with people he knows and those he doesn't. He creates community pretty quickly." They both agree that his deep personal faith and his belief in the importance of discipleship are two elements that will support him over the next three years.
Bott has served as a minister in both Ontario and British Columbia. Rev. Dave Anderson, lead pastor at Eagle Ridge United in Coquitlam, B.C., met him in 2003. "I don't know anyone with more integrity," Anderson says. "He oozes integrity."
Anderson has long admired his friend and colleague's ability to help congregations thrive. "Here on the West Coast, we are in the secular world," he says. "It's very tough to keep a church going, and Richard builds churches. He is one of the people who can actually build up a church."
With laughter in his voice, Anderson adds that Bott "is a church geek. He's the Manual go-to guy, and he has a deep appreciation of the wisdom of those who came before us."
Together, Bott and Anderson created Immersion, a curriculum for people new to the United Church. Soon to be widely available, it is not only informational but experiential, with a commitment to both communal and individual spiritual practices. It reflects Bott's belief that Christianity is a deeply lived, transformative experience.
The new moderator has a lifelong grounding in faith, a long practice of ministry and genuine hope for the future of the church. He is well placed to lead the United Church through the major denominational restructuring of the next three years.
CORRECTION: A previous version of this story stated that the moderator is a single parent. This version has been corrected.
---
GREEN!
Did you know the United Church is trying to become more green, and reduce its carbon footprint? Our Property Committee is trying to help Westminster do that too! Here is info on two programs the Property Committee is currently working with to help make this happen …
National Heritage Trust Workshop
On November 3, 2018 the National Heritage Trust of Canada is hosting a full day workshop at Crescent Fort Rouge on issues that affect places of faith in Winnipeg. This event is currently in the planning stages and more details will be available soon. If anyone wants to know more or is interested in attending, please see Brandon Johnston.
Faithful Footprints
At the 43rd meeting of general council the goal was set to reduce the carbon emissions of the United Church 80% by the year 2050. To help with accomplishing this the national church has partnered with a non profit called Faith and the Common Good and are offering a grant program called Faithful Footprints to aid with energy efficiency upgrades. There are two types of grants available. One is a grant up to $5000 where the grant will cover 30% of the project costs. The second is a grant up to $30,000 where the grant will cover up to 50% of the project costs. As you can only apply to this grant once, the property committee is currently working on having the building tested for air leakage and heat loss. This will help with making an energy efficiency improvement plan for our building.
In addition, Faith and the Common Good has partnered with the National Heritage trust and will be offering their own work shop on Friday November 2, also at Crescent to present more information on the new grant. For more information or if you would like to attend this portion of the workshop please contact Brandon Johnston.