Congratulations!
Congratulations to skip Bob Burton and team who participated in the Friar's Briar in Regina this month. See the story and photo in the March issue of the Observer.
This week we hold in our thoughts and prayers
St. Mary's Road United Church.
'Via crucis'
Tonight at Westminster United Church, pianist and narrator Michael McKay will be giving a sacred piano recital called Via crucis (The Way of the Cross). The recital will be a unique experience, combining the piano solo version of Franz Liszt's Via Crucis with readings from Anne Catherine Emmerich's Dolorous Passion of Our Lord Jesus Christ and the candle-extinguishing ceremony of a Tenebrae service. The whole experience will be a powerful and dramatic meditation on the Stations of the Cross–on Christ's sufferings, death, and burial. Admission: $20at the door.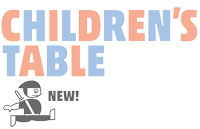 Children are invited to gather at the Children's Table following the anthem for a quiet activity to help them engage in and experience the gospel message, while allowing them to move around and explore in ways that come naturally to them. Along with a craft activity they will find Children's Bulletins in two different developmental levels containing activities relating to the day. This Sunday, March 25, we celebrate Palm Sunday. At the Children's Table we will create our own palm branches to wave just like the people did as Jesus entered Jerusalem. For more information about the Children's Table, contact Teri Skakum, Child and Family Coordinator, at teri@westminsterchurch.org.
Communion service
Our next Communion Service will be held on Sunday, April 1. The Communion offerings will go to the Taxi Fund. Envelopes can be found in your box of envelopes or on the hall or narthex tables.
Notes from the Board
Your Board has been working diligently over the last two months! Some highlights:
researching Solar Panels for the south side of the building, a potential elevator, dual projection system and ongoing buildings repairs
revision to the Act of the Legislature for the Westminster Foundation passed at the March 20th meeting
moved our website to a new host "Digital Ocean" which will accommodate the e-book, anticipated soon
first review and discussions of the "Strategic Directions" report is almost complete with fine-tuning to come in April
engaging with the community through the Camino Walk evening, the Centering Prayer workshops and upcoming talk with Dr. Niigaan Sinclair
Look forward to opportunities to meet to discuss our future goals and mission as we continue the path of being church in the Wolseley neighbourhood. Thanks to all of the Board members for their hard work, great discussions, sharing of ideas and forward-thinking! — Carol Latter
21st Westminster Open Golf Tournament
The 21st Westminster Open Golf Tournament is scheduled for TUESDAY, June 5. Please mark your calendar.
Easter Flower Fund
If you'd like to remember a loved one this Easter by contributing to the Easter flower fund, please send the office the following information: your name, phone/email address, the name(s) of the person(s) you would like to honour and the amount and method of your donation. Flower fund forms can be found on the narthex or hall tables.
---
This Week at Westminster
Sunday, March 25
• Palm Sunday Worship, Sanctuary: 10:30 to 11:30 am. Potluck Lunch, after worship — everyone welcome!
• Michael McKay Recital, Sanctuary: 7:30 pm
Monday, March 26
• Sparks, Lecture Hall: 6:30 to 7:30 pm
• Brownies, Concert Hall: 6:30 to 8:00 pm
• Guides, Gym: 6:30 to 8:00 pm
• Library: 6:30 to 8:30 pm
Tuesday, March 27
• Knitters, Chapel: 10:00 to 12:00 am
• Staff, Library: 12:00 to 1:00 pm
• Tai Chi, Lecture Hall: 5:30 to 6:30 pm
• Beavers, Concert Hall: 6:30 to 7:45 pm
• Cubs, Gym: 6:30 to 8:00 pm
• Venturers, Library: 6:30 to 8:30 pm
Wednesday, March 28
• Families Anonymous, Library: 1:00 to 3:00 pm
• Scouts, Gym: 6:30 to 8:00 pm
Thursday, March 29
• Quilters, Library: 10:30 am to 2:30 pm
• Tai Chi, Lecture Hall: 5:30 to 6:30 pm
• Judo, Gym: 6:30 to 8:30 pm
• AlAnon, Library: 7:00 to 8:00 pm
• Maundy Thursday Worship, Sanctuary: 7:00 pm
• Choir, Sanctuary: 7:45 to 9:00 pm
Friday, March 30
• Good Friday Worship, Sanctuary: 10:30 to 11:30 am
Sunday, April 1
• Easter Sunday Worship, Sanctuary: 10:30 to 11:30 am
---
An Evening with Dr. Niigaan Sinclair
The Inner and Outer Connections Team of Westminster United Church presents: An Evening with Dr. Niigaan Sinclair (Associate Professor of Native Studies at the University of Manitoba) on the topic: 'The Winter of Loss: A Discussion of What Reconciliation Looks Like Now.' May 2, 2018 at 7:30 PM at Westminster United Church, in the Sanctuary. There will be a Free Will Offering at the door. Proceeds will be donated to the Department of Native Studies at the U of M, in support of a student scholarship.
An email from West Broadway Community Ministry
I know that many of our supporters have a significant collection of supplies for emergency food pantries at Easter.
West Broadway Community Ministry has had very heavy use this month, we are keeping stock up, but only just. As of yesterday, we have provided emergency food assistance to 269 individuals since the beginning of March. Our only source of food to help these folks is donations from churches, community groups and individuals. Among the folks coming to us for assistance are many new, first time requests. We have also received some amazingly generous monetary donations for the emergency food cupboard which has allowed our volunteers to purchase cases of needed food from the wholesalers. It would be great if we could communicate to our generous donors some specific needs for foodstuffs that are critically low. We could really use:
canned tomato sauce
canned stews or chili
canned ravioli or spaghetti
canned baked beans
canned veggies
canned fruit
tuna/chicken/ham
small jars of peanut butter
instant oatmeal
dry breakfast cereal
If you are drafting a church bulletin, or community newsletter, feel free to share this message! Thanks so much for your generous support, may you all have a Holy and Blessed Easter. Canon Dave Robinson, Interim Community Minister, West Broadway Community Ministry. (Note from Marilyn — please drop your donations off at West Broadway CM or here at Westminster, marked for West Broadway.)
Volunteers required!
Volunteers are required to Operate our Sound System. Training provided. If interested, contact Len LaRue (the Worship Committee).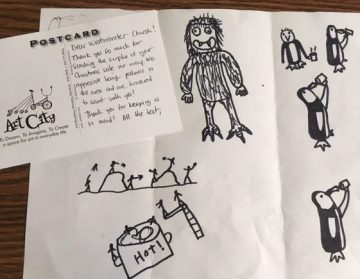 A thank you note and original art from Art City.
Upcoming services
Palm Sunday service, 10:30 am, Sunday, March 25th — with Procession of the Palms
Maundy Thursday service, 7:00 pm, Thursday, March 29th — with Communion
Good Friday service, 10:30 am, Friday, March 30th
Easter Sunday service, 10:30 am, Sunday, April 1st — with Communion