This Week at Westminster
Sunday, August 26
• Morning worship, Sanctuary:10:30 to 11:30 am
Wednesday, August 29
• Families Anonymous, Library: 1:00 to 3:00 pm
Sunday, September 2
• Morning worship, Sanctuary: 10:30 to 11:30 am
This week in the Winnipeg Presbytery prayer cycle we remember Churchill Park United Church.
Save  the dates!
September 16th, after church / Welcome Back Congregational Lunch
October 20th / Fall Supper
Tuesday September 25th / Saskia & Darrel, The Great Plains musicians will be performing at 7:00 p.m. at Harrow United Church, 955 Mulvey Avenue. This duo is well known for performing fabulous Canadian music with Celtic, bluegrass, folk, country & gospel flavours. Tickets are $15 and can be purchased by contacting the church office at 204-284-0079. You can check out the reviews for this wonderful duo at www.thegreatplains.ca
Book Study dates to be announced soon!
The Inner and Outer Connections committee will be offering 3 'book study' evenings this coming fall/winter (dates/times tba). Books that will be discussed:
The Pagan Christ: Recovering the Lost Light (2004), by Tom Harpur
Grounded: Finding God in the World – a spiritual revolution (2015) by Diana Butler Bass
Grateful: The Transformative Power of Giving Thanks (2018), by Diana Butler Bass
Mark Damisch, in concert
Mark Damisch, in concert to benefit The Bell Tower Community Café and 1JustCity, Sunday, September 16th 7:30 pm, Westminster Church. Chicago based pianist Mark Damisch in concert performing a program of Gershwin and Copland favourites. All proceeds to be donated to The Bell Tower Community Café and 1JustCity. Tickets $15 at the door.
Seeking a part-time Sunday School Director
Immanuel United Church in East Kildonan is a welcoming, affirming, justice- seeking congregation with a strong commitment to lay leadership and ongoing Christian Education that is currently seeking a creative individual to fill the important role of Sunday School Director.
The successful applicant will be someone who enjoys spending time with our younger members of the congregation, expressing his/her faith through their teachings to the Sunday School children. He/She will work collaboratively with the minister to integrate our children's program into the worship and life of our whole church. Intercultural experience/understanding would be an asset.
Time commitment: approximately 8 hours per
Salary: $20.00 per
Starting Date: Early October
Application deadline: September 15,
For further information and full job description contact Leslie Ross.
Fort Garry United Church BBQ
Fort Garry United Church 4th Annual Community BBQ Wed, Sept 12, 4:30 – 7:00 Pm, 800 Point Road, outside on the lawn (inside if raining) Everyone Welcome! Meet your neighbors! Pork on a Bun, (MB Pork Producers) (& veggie option). $5/person includes BBQ, coleslaw, cookie, beverage & Chaeban Ice Cream, Kids Games, music & networking Displays of other community agencies Bring your lawn chair! Email for information.
Fort Garry United Church Life & Art Sharing Circle
Eight Mondays, September 24th to November 19th, 6:00 pm to 8:30 pm. Breaking barriers, Expanding horizons, Building community through telling stories & making art. FREE program, child minding/bus tickets available. Closed group with registration deadline Sept 16. To register please contact: 204-981-1807 or nisw2.fortgarry@familydynamics.ca or fguc@shaw.ca 204-475-1586. Facilitators: Claire Stephensen & Min-Goo Kang.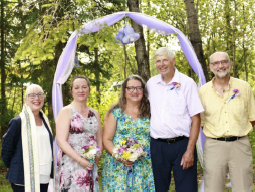 Thank you!
A huge thank you to Rev. Sherri McConnell for performing our marriage ceremony on August 11. And thank you Westminster folks for the many congratulations and well wishes.
Pictured from the left: Rev. Sherri McConnell, Rhonda Bradford (best woman/sister), Marilyn Thiessen & Peter Enns (the happy couple), John Wiebe (best man).