Celebrations
This morning we celebrate with Kevin and Brittany Bernier and their daughter Kinsley as they join the Westminster United Church family through confirmation and baptism. Kevin and Brittany were married at Westminster United Church. Kevin grew up in Fisher Branch and is an RCMP officer currently serving out of Portage La Prairie. Brittany grew up in The Pas, where she attended Westminster United Church (small world). Brittany was a teacher until the birth of Kinsley. Kevin and Brittany moved from The Pas to Oakville, MB in this past year, but said they don't mind the commute to the church. Welcome Kevin, Brittany and Kinsley!
You've been asking … the winning bid for the beautiful Dresden Plate quilt that was donated by the Westminster Quilters, was from Megan McLeod and Hedley Auld for $2,250.00. Thank you Megan and Hedley and thank you Quilters! Above: the Westminster Quilting group (photo Roy Halstead).
The Westminster Wedding Bells were ringing yesterday! We wish Kelly and Shaun Valcourt many blessings on their marriage.
Spirit of Service Award
At the Manitoba Non-Profit Housing Association conference that was held Wednesday, November 22nd, Charles Huband was honoured with the 2017 Spirit of Service Award. The Spirit of Service Award honors an employee or volunteer that helped make their non-profit a better place to live and who serves as a model to employees and volunteers across Manitoba.
Messiah Fundraiser
The Winnipeg Symphony Orchestra will present Handel's Messiah on Friday & Saturday, December 15 & 16. When buying tickets, use the code WESTUC and get a 20% discount on the ticket price AND Westminster will receive a donation of 20%. WSO box office (204) 949-3999.
Communion offering
The Communion offering on December 3 will be donated to the Bell Tower Community Café. Please give generously to this work which is close to all of our hearts. We are all pleased with the work that they do, and the effort that is put forth by all involved for its continuing successes. Thank you.
Seniors Transport
Westminster Church is using a new taxi service called Seniors Transport. For more information contact Dawn Beirnes or the church office. Donations to the Taxi Fund are always welcome.
This week we hold in our thoughts and prayers, the congregation and staff of John Black Memorial United Church.
Bell Tower Birthday
You are invited to join us at Bell Tower on Friday, December 1, 6:30- 8pm for our annual Bell Tower Birthday celebration. This year we will host a turkey dinner to celebrate our birthday and kick of the Christmas season. Please join us for the dinner and music by Curtis Wiens and Friends. If you would like to contribute to the meal with food, contact Meaghan Pauls at meaghanpauls@belltowercommuni tycafe.org or 204-260-6768.
Mincemeat!
Mincemeat time of year again! Westminster choir is happy once again to continue this tradition.
$6.00 a tub will get you the best mincemeat in town. Tubs will be for sale after church for the next few Sundays. Enjoy!
Memory Tree
Last fall, 24 Memory Stars were purchased and placed on the Memory Tree. The new (larger) tree is at the front of
the sanctuary. As we approach this Advent and Christmas Season, please support this project by purchasing a star to remember or pay tribute to a loved one. Order forms and instructions are on the tables in the narthex or back hall.
Fellowship luncheon
There will be a Fellowship luncheon on December 10 sponsored by the Worship Committee. All are welcome! A free will offering will be taken to cover costs.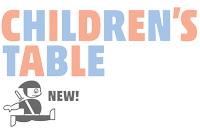 All children are invited to gather at the Children's Table following the anthem for a quiet activity to help them engage in and experience the gospel message while allowing them to move around and explore in ways that come naturally to them.
In today's gospel we are reminded that in order to be like Jesus we should love and serve others. Today, November 26, at the Children's Table, create a service wheel to help you remember ways that you can show Jesus love to others.
For more information about the Children's Table, contact Teri Skakum, Child and Family Coordinator, at teri@165.227.34.127.
Children's Christmas Sale
Our annual Westminster Children's Christmas Sale is happening on December 9.
You make it happen by donating items such as costume jewelry, toiletries, knitting, stationery, household items, cups and saucers, mugs, stuffed toys, books, perfume, games, puzzles, ties, ornaments, candles — anything you think a child might like to give to family members or friends. We also need gift bags, ribbon, tags and jewelry boxes. Please be sure that your items are in new condition.
Please drop off your donations at the Church office or leave them with a caretaker. Thank you for your support in this Outreach to our community.
---
Coming Services
December 3 – Advent 1, Communion
December 20 – Blue Christmas
December 24
• Morning Worship, 10:30 am
• Family Christmas Eve service
• Candlelight service, 10:30 pm
This Week at Westminster
Sunday, November 26
• Morning Worship & Baptism, Sanctuary 10:30am
Monday, November 27
• Sparks, Lecture Hall 6:30 – 7:30 pm
• Brownies, Concert Hall 6:30 – 8:00 pm
• Guides, Gym 6:30 – 8:00 pm
• Pathfinders, Library 6:30 – 8:30 pm
Tuesday, November 28
• Knitters, Chapel 10:00 – 12:00 am
• Staff, Library 12:00 – 1:00 pm
• Tai Chi, Lecture Hall 5:30 – 6:30 pm
• Beavers, Concert Hall 6:30 – 7:45 pm
• Cubs, Gym 6:30 – 8:00 pm
• Venturers, Library 6:30 – 8:30 pm
Wednesday, November 29
• Families Anonymous, Library 1:00 – 3:00 pm
• Scouts, Gym 6:30 – 8:00 pm
Thursday, November 30
• Quilters, Library 10:30 am – 2:30 pm
• Tai Chi, Lecture Hall 5:30 – 6:30 pm
• Judo, Gym 6:30 – 8:30 pm
• AlAnon, Library 7:00 – 8:00 pm
• Choir, Sanctuary 7:00 – 8:30 pm
Friday, December 1
• Bell Tower Community Café 6:30 – 8:00 pm
Saturday, December 2
• U of Manitoba Concert Choirs, Sanctuary 7:30 pm
Sunday, December 3
• Advent 1 Communion, Sanctuary 10:30 – 11:30 am
• Women of Note, Sanctuary 3:00 pm
---
Thank you Foodfare!
Parking is available in the Foodfare lot across from the church, on Sundays UNTIL 1 pm.
---
It's Stewardship Time!
Dear Friends, November 2017
We are so thankful you are a part of the Westminster United Church family. We are grateful for your support this past year – your time and talent, your financial support and your prayers. We invite you to continue participating in the ministry and mission of Westminster this coming year.
Inspired by these powerful words – we love because we are loved (1 John 4:19) – Westminster United Church has been serving the community for over 125 years. Each week, hundreds come through our doors. Whether through Sunday worship, choir practise, book study, a baptism or bereavement visit, judo, tai chi, daycare, girl guides or scouts – our church is here for the community.
All that we do at Westminster is made possible by the generous annual gifts and contributions of our members and friends. Your gifts support our worship and music, outreach to our community, learning and spiritual growth, pastoral care and fellowship and our support to the wider church.
We hope you will join us on the journey again this year. At this time, we invite you to do the following:
Read the narrative budget intentionally, carefully and prayerfully
Think about Westminster, what it means to you and the path before us
Renew your financial commitment to Westminster for 2018
We invite you to take advantage of one of two opportunities to complete your pledge cards in-person during coffee time after Sunday morning worship, TODAY. Alternatively, you can send your pledge by mail. Thank you sincerely for your ongoing support of Westminster United Church!
Your Stewardship Committee
---
COOKIE RUN!
SATURDAY DECEMBER 2, 10 AM – 12 NOON
Fort Garry United Church, 800 Point Road
Buy an empty box & for $7 fill it with your choice of delicious homemade cookies! Check out our specialty baking table! Enjoy a cup of coffee, tea or apple cider & a cookie in our café for $1.50! Best buy in town!
---
Crochet Caring
Making Sleeping Mats for the Homeless Event
Winter is here, and as we all know, winter brings difficult challenges to people without a place to sleep. This year
1JustCity will again be holding Just a Warm Sleep (JaWS), a safe place to for people to sleep during low temperatures.
However, there is a shortage of mats to sleep on, leaving people sleeping on a bare floor. Not very comfortable. But we are holding an event on Dec 3 to help solve this problem with a little craftiness!
We will be using shopping bags to crochet cushiony, easily washed and light weight sleeping mats. Please come and bring all friends or family who wish to help. Non crafty people can help prep bags! All hands are needed and welcome.
Refreshments and plenty of compliments provided!
Dec 3, 2017, 1pm – 5pm, Oak Table, 109 Pulford Ave, Winnipeg MB
If you can't come but still want to contribute, please send us all your old grocery bags (Safeway, Walmart, whatever!) or lend us a crochet hook. And as always, financial donations are welcome!
---
Future Present: An Elleston Liddell Mystery
TICKETS ON SALE NOW for the radio play Future Present: An Elleston Liddell Mystery being performed at Westworth on November 24th 7:30pm, 25th 7:30pm and 26th 2:30pm. Cast includes some familiar faces/voices from Westworth and Young United. Ticket price includes tea/coffee and cookies at intermission. Pricing for children, adults and low income. Tickets $20 (Children & Students $10) Tickets available in the office during the week or at the door. 1750 Grosvenor Ave.
JUST GIFTS 2017
1JustCity is an organization that supports four member charities working in Winnipeg's core neighborhoods via Oak Table, West Broadway Community Ministry, St. Matthews-Maryland, Northend Stella Community Ministry. 1JustCity giving brochures are available on the Narthex and hall tables.
Christmas Gifts for Children in the North
Greetings, Again this year, Winnipeg Presbytery has received a request to supply Christmas gifts for children at God's Lake Narrows. At the November meeting of Presbytery it was decided that we would agree to this request and that we would invite congregations and individuals in Winnipeg Presbytery to contribute to this project. If your congregation or individuals in your congregation would like to make a donation, they may do so by sending a cheque made out to Winnipeg Presbytery and marked "Christmas Gifts for God's Lake Narrows." A number of folk from the Presbytery have already agreed to purchase and arrange for the shipping of these gifts.
Please send donations to the Presbytery Office (1622-B St. Mary's Road, Winnipeg, MB, R2M 3W7). If donations exceed the cost of gifts and shipping, the extra money will be used for the work of Reconciliation in our Presbytery. Thank you for your generosity and care during the Advent and Christmas seasons, Irene Greenwood, Chair, Reconciliation Interest Group, Winnipeg Presbytery Loraine MacKenzie Shepherd, Chair, Winnipeg Presbytery
Christmas Tea & Craft Sale
John Black Memorial United will hold their Annual Christmas Tea & Craft Sale on Sat. Dec. 2, from 10:00am to 3:00 pm. There will be home baking, pies, vendors with crafts, a recycled Christmas item table and a Children's Christmas Shopping Room as well as a luncheon.
Gifts with Vision
The new 2017-2018 cycle of Gifts with Vision has been launched with a new gift catalogue and renewed website. Are you looking for a meaningful gift to give someone for Christmas, or their birthday, or just because? Gifts with Vision is a great way to make a difference and show someone that you care. Watch for a special gift drive for Giving Tuesday, November 28th, 2017!
The deadline for bulletin submissions is Wednesday at noon.