Congratulations!
Congratulations to Angela and Jeff who were married here at Westminster yesterday afternoon. We wish them God's blessing on their marriage.
Westminster Church is participating in Doors Open Winnipeg today from noon to 4 pm. You are welcome to stay after church to learn more about
Westminster's history or even to lend a hand if you like.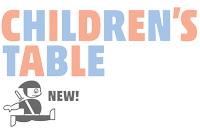 All children are invited to gather at the Children's Table following the anthem for a quiet activity to help them engage in and experience the gospel message while allowing them to move around and explore in ways that come naturally to them.
In this week's Gospel reading we hear about Jesus saying a special prayer for his friends. Today at the Children's Table create a prayer mobile to help you pray for your friends.
For more information about the Children's Table contact Teri Skakum, Child and Family Coordinator, at teri@165.227.34.127
Communion service …
Our next Communion Service will be held on Sunday, June 4th. The Communion offerings will go to the Manitoba Interfaith Immigration Council, which supports the refugees coming across the borders at Emerson through the Welcome Place program. Manitoba has recently seen an increase in the arrivals of people undertaking dangerous and long journeys to find peace and safety. This fund is intended to provide direct aid to those arriving in Emerson, Manitoba. It will be used to provide basic necessities upon arrival: food, shelter, warm clothes, etc. Further information about the Manitoba Interfaith Immigration Council can be found at http://miic.ca/ . Communion envelopes may be found on the hall or narthex tables and in your offering envelope box.
Sport
The Twentieth Westminster Open Golf Tournament is scheduled for Monday, June 5 at River Oaks Golf and Country Club. Mark your calendar.
Land Of Lakes Concert Choir
On the evening of June 14th, we welcome the Land of Lakes Concert Choir to Westminster. Let's give a warm Westminster welcome to this talented ensemble of young men. If you can offer a billet for 2 choristers on the night of the 14th and for more information, please speak to Margaret Cuddy, Grace Aoki or Carol Latter.
---
Westminster 125th Anniversary Dinner
Saturday Oct. 21st, 5:30 pm (dinner at 6)
Norwood Hotel, Marion St. Main floor Ballroom (easy access). Tickets available in the office or from Ted Barnett…$50.00 / $55.00 after September 10, 2017
Saturday Oct. 28, 2017
Congregational Workshop – facilitated by John Pentland; open to all interested members of Westminster Church
Sunday Oct. 29, 2017 10:30
Worship Service – guest preacher, John Pentland
7:00 pm Public Lecture – speaker, John Pentland
---
This week at Westminster
Monday, May 29
• Sparks- LH, Brownies- CH, Guides- Gym, Pathfinders- Lib., 6:30 – 8 pm
Tuesday, May 30
• Knitting Group, chapel 10:00 am – noon
• Tai Chi, lecture hall 5:30 – 6:30 pm
Wednesday, May 31
• Families Anonymous, library 1:00 – 3:00 pm
Scouts, gym 6:30 – 8:30 pm
Thursday, June 1
• MCO set up tentative all day
• Quilters, library 10:30 – 2:30
• Tai Chi, lecture hall 5:30 – 6:30 pm
• AlAnon, library 7:00 – 8:00 pm
• Wedding rehearsal, sanctuary 7:00 pm
Friday, June 2
• MCO set up tentative all day
• Bell Tower Community Café – 6:30 pm
Saturday, June 3
• Wedding, Sanctuary 12:15 – 1:45 pm
Sunday, June 4
• Morning Worship 10:30 am
• Wedding rehearsal 12 noon
• Set up for MCO 1 pm
• MCO rehearsal 6 pm
---
What if you were tasked with Escaping Poverty?
Well we put 3000 high school students to the test this past Fall and it was a success!!!! Thanks to volunteer, Alicia Kondrat, the Escape Poverty Challenge (EPC) had six schools and small businesses participating in a week's worth of challenges, simulating the struggles of poverty. The EPC raised over $8500 in cash and 14 carloads of donations! Items that go right into the hands of those in need of them! Maybe you're thinking – I want to do that! Well – here's your opportunity to make that happen! We have a matching grant of $10,000 – If you contribute $100 today – that means $200 for a full time position focused on events like the Escape Poverty Challenge – a position that will be self-sustaining and bring in needed cash & items to the outreach sites! Just as important EPC will make sure that the next generation are problem solvers & community leaders– like you!