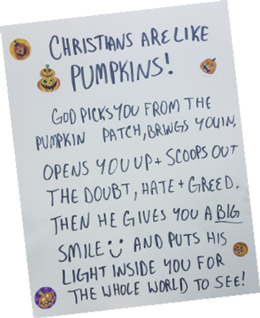 Random notes …
This week in the Winnipeg Presbytery prayer cycle we remember the congregation and staff of Grey Street United Church.
Please keep Bob Burton in your prayers as he recovers from some time in the hospital.
Nathan's Notes October 28th
Sine Nomine is the name of the tune we sing to "For all the Saints," "Go to the World," and others. It's a latin term for "With no name." Ralph Vaughan Williams wrote this well known tune in 1906, and so many years later it still stands as one of our most recognizable in the Anglican, and Protestant church. A neat feature is the bass line- the lowest notes walking along the bottom of the tune. It never stops! It evokes a sense of marching- marching behind the saints that lived their lives before us. If you have a good view, be sure to check out Don Menzies' feet as they pedal along!
SAVE THE DATE
Nov. 18th Anniversary Service at 7pm….more details to follow.
---
This Week at Westminster
Sunday, October 28
• Morning Worship, Sanctuary: 10:30 to 11:30 am
Monday, October 29
• Sparks, Lecture Hall: 6:30 to 7:30 pm
• Brownies, Concert Hall: 6:30 to 8:00 pm
• Guides, Gym: 6:30 to 8:00 pm
• Pathfinders, Board Room: 6:30 to 8:30 pm
Tuesday, October 30
• Knitters, Chapel: 10:00 am to noon
• Staff, Library: 12:00 to 1:00 pm
• Tai Chi, Lecture Hall: 5:30 to 6:30 pm
• Beavers, Concert Hall: 6:30 to 7:45 pm
• Cubs, Gym: 6:30 to 8:00 pm
• Venturers, Board Room: 6:30 to 8:30 pm
Wednesday, October 31
• Families Anonymous, Library: 1:00 to 3:00 pm
• Scouts, Gym: 6:30 to 8:00 pm
Thursday, November 1
• Quilters, Library: 10:30 am to 2:30 pm
• Tai Chi, Lecture Hall: 5:30 to 6:30 pm
• Worship Committee, Chapel: 1:30 to 3:30 pm
• Choir, Sanctuary: 7:00 to 8:30 pm
Friday, November 2
• Bell Tower Community Café & Winnipeg Harvest Food Bank: 6:30 to 8:00 pm
Saturday, November 3
• Bell Tower Anniversary Brunch, Concert Hall: 10:30 am
• Prairie Voices, Sanctuary: 7:30 pm
Sunday, November 4
• Morning Worship, Sanctuary: 10:30 to 11:30 am
---
Gifts with Vision catalogue
The 2018-2019 Gifts with Vision catalogues have arrived! A great way to give to those in need and do your Christmas shopping at the same time! You can help folks in Oxford House to buy groceries (pg. 13) or provide warm clothes and a meal (pg 15) here in Winnipeg at one our Community Ministries. There are many other opportunities for giving across Canada or around the world. Catalogues can be found on the tables in the narthex or hallway or shop online.
In Our Community
University Women's Club of Winnipeg is holding their 38th annual Christmas Market at 54 West Gate (Ralph Conner House) on Friday, Nov. 2 from 10 am to 5 pm and Saturday, Nov. 3 from 10 am to 4 pm. Three floors of Manitoba crafts and giftware for your home, family, and friends. Admission $3.