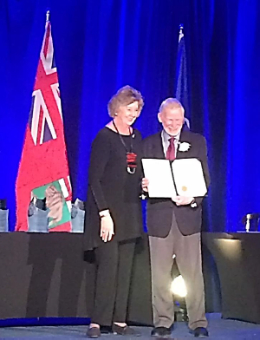 Congratulations!
Congratulations to Jim Palmquist who was awarded the Lieutenant Governor's Make a Difference Community Award. This award is given to individuals who embody and promote volunteerism and who make lasting and meaningful contributions to their community.
No worship May 27th
At the February 27th Board meeting, a motion was approved "That Westminster Church join the Winnipeg Conference Service, at the University of Manitoba, on May 27, 2018." Therefore there will not be a Sunday Service at Westminster Church on Sunday, May 27th.
This week we hold in our thoughts and prayers, Trinity United Church.
Scoutrees canvassing
The 82nd Westminster Beavers, Cubs & Scouts will be outside in the Narthex and back hallway after church today seeking your support in our annual Scoutrees canvassing. This campaign is our main fund raising effort for the year and we depend upon the money raised to defray costs for next year. We keep 70% of all money collected while the other 30% goes to Scouts Canada to run the national programs. For every dollar that we collect we shall plant a tree in the Sandilands Park on May 5. Since Scoutrees started in the 1950s Scouts across the country have planted over 1.1 million trees. Donations over $20 are tax deductible. A tax receipt will be issued by CRA.
The 21st Westminster Open Golf Tournament is scheduled for TUESDAY, June 5.
SAVE the DATE!
Saturday Oct. 20, 2018. Westminster's Fall Supper here at the Church. Planning is underway! See Helen La Rue for more info.
---
This Week at Westminster
Sunday, April 29 Morning Worship, Sanctuary
• 10:30 to 11:30 am
• OPUS 2018 concert, Sanctuary & LH: 3:00 pm
Monday, April 30
• Sparks, Lecture Hall: 6:30 to 7:30 pm
• Brownies, Concert Hall: 6:30 to 8:00 pm
• Guides, Gym: 6:30 to 8:00 pm
• Pathfinders, Library: 6:30 to 8:30 pm
Tuesday, May 1
• Knitters, Chapel: 10 am to 12 pm
• Staff, Library: 12:00 to 1:00 pm
• Tai Chi, Lecture Hall: 5:30 to 6:30 pm
• Beavers, Concert Hall: 6:30 to 7:45 pm
• Cubs, Gym: 6:30 to 8:00 pm
• Venturers, Library: 6:30 to 8:30 pm
Wednesday, May 2
• Families Anonymous, Library 1:00 to 3:00 pm
• Scouts, Gym 6:30 to 8:00 pm
• Niigaan Sinclair lecture, Sanctuary 7:30 pm
Thursday, May 3
• Quilters, Library: 10:30 am to 2:30 pm
• Worship Committee, Chapel: 1:30 to 3:30 pm
• Tai Chi, Lecture Hall: 5:30 to 6:30 pm
• Choir, Sanctuary: 7:00 to 8:30 pm
Friday, May 4
• Bell Tower Community Café & Wpg Harvest Food Bank: 6:30 to 8 pm
Sunday, May 6
• Morning Worship, Sanctuary: 10:30 to 11:30 am
• Winnipeg Wind Ensemble, Sanctuary & LH: 3:00 pm
---
Volunteer Appreciation Dinner. Monday May 7th
The Partners in Mission Churches are hosting the Volunteer Appreciation Dinner. The dinner will be held in the Young United Church sanctuary and we will use the WBCM kitchen. The planning committee is requesting that your Church provide 3 dozen dainties and 1 person to help with clean up between 6:30 pm and 8:00 pm. Please deliver the food items to the main floor at Crossways in Common at 222 Furby Street between 4:00 pm and 5:00 pm on May 7th. Please call Dennis Coley at 326-5783 or email to confirm your support.
An evening with Dr. Niigaan Sinclair
Topic: 'The Winter of Loss: A Discussion of What Reconciliation Looks Like Now.' Join us at Westminster United Church (745 Westminster Ave.) on Wednesday, May 2nd, 7:30 PM to In the Sanctuary. We will be taking a Free Will Offering at the door in support of a student scholarship for the Native Studies Department at the University of Manitoba.
We're doing a selfie!
A request has gone out for 'congregational selfies' to include in the Closing Worship Service at the Conference of MB and NWO Annual Meeting (taking place on Sunday May 27/18 — see above announcement). Westminster is joining in on the fun! On Sunday May 6, immediately following the postlude at the end of the service, we hope as many of us as possible will be gather at the front of the sanctuary to have our picture taken. Hope you can be there!
Iridesce: A Living Apology
Sunday, May 6 at 10:00 a.m. Iridesce: A Living Apology project seeking to inspire, and reconcile people of diverse sexual, romantic, and gender expressions and identities within The United Church, Presented by Affirming Ministry and with Aaron Miechkota, at Churchill Park United Church (525 Beresford Ave). Worship at 10:00 am; lunch is 11:30 am to 1:00 pm; Workshop at 1:00 pm to 4:00 pm. Vegetarian and gluten-free options available. Please register for lunch.