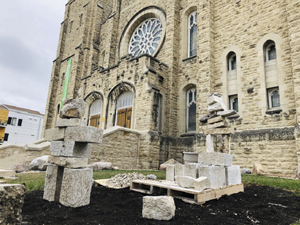 Nathan's Notes
Today's anthem include words from a longer very ancient prayer. It's attributed to St. Patrick, the second Bishop of Ireland- and dates from the 5th century. This kind of prayer is meant to invoke God's protection against every kind of evil. You can find a part of this prayer in Voices United, hymn 317. The music is very contemporary, using surprising harmonies to enhance the words we sing.
This week in the Winnipeg Presbytery prayer cycle we remember the clients and staff of United Church Halfway Homes.
Upcoming Worship Services
Nov. 11, 2018 – Remembrance Service of Worship
Nov. 18 2018 – Anniversary Service, 7pm Jazz Vespers with musicians from the University of Manitoba.
Nov. 25, 2018 – Stewardship Sunday 1
Dec. 2, 2018 – Stewardship Sunday 2, Advent 1 and Communion
---
This Week at Westminster
Sunday, November 4
• Morning Worship, Sanctuary: 10:30 to 11:30 am
Monday, November 5
• Sparks, Lecture Hall: 6:30 to 7:30 pm
• Brownies, Concert Hall: 6:30 to 8:00 pm
• Guides, Gym: 6:30 to 8:00 pm
• Pathfinders, Board Room: 6:30 to 8:30 pm
• Property Committee, Library: 7:00 to 9:00 pm
Tuesday, November 6
• Knitters, Chapel: 10:00 am to noon
• Staff, Library: 12:00 to 1:00 pm
• Tai Chi, Gym: 5:30 to 6:30 pm
• Manitoba Chamber Orchestra, Sanctuary: 7:30 pm
Wednesday, November 7
• Families Anonymous, Library: 1:00 to 3:00 pm
• Westminster Housing Society Tenancy Board: 5 to 6:30 pm
• Scouts, Gym: 6:30 to 8:00 pm
Thursday, November 8
• Quilters, Library: 10:30 am to 2:30 pm
• Tai Chi, Lecture Hall: 5:30 to 6:30 pm
• Centering Prayer, Chapel: 6:00 to 7:00 pm
• Choir, Sanctuary: 7:00 to 8:30 pm
Saturday, November 10
• Royal Canadian Armed Forces Band, Sanctuary: 7:30 pm
Sunday, November 11
• Morning Worship, Sanctuary: 10:30 to 11:30 am
---
Children's Christmas Sale
Our annual Westminster Children's Christmas Sale is happening on December 8. You make it happen by donating items such as costume jewelry, toiletries, knitting, stationery, household items, cups and saucers,
mugs, stuffed toys, books, perfume, games, puzzles, ties, ornaments, candles – anything you think a child might like to give to family members or friends. We also need gift bags, ribbon, and tags. Please be sure that your items are in new condition. Please drop off your donations at the Church office or leave them with a caretaker. To volunteer, please call the church office at 204-784-1330. Thank you for your support in this Outreach to our community.
---
Westminster Centering Prayer
All are welcome!
Have you ever wished you had a little more stillness in your life? Maybe you have been searching for a new spiritual practice? Well, the Westminster Centering Prayer group might be the place for you! The Westminster Centering Prayer Group meets monthly from 6 to 7 pm in the Chapel. This is an open group and all are welcome! No previous experience is necessary. If you have ever been curious or interested in Centering Prayer, you are welcome. Upcoming Dates for Westminster Centering Prayer Group:
Wednesday Nov. 14, 2018 6 -7 pm
Wednesday Dec. 12, 2018 6 to 7 pm
Email or call the church office if you have any questions, to let us know if you plan to attend. Hosted by the Inner and Outer Connections Committee.
---
Memory Tree
The MEMORY TREE will be in the sanctuary from early November to January 31, 2019. Order forms, to purchase Memory Stars, are in the narthex and the back hallway.
Gifts with Vision catalogue
The 2018-2019 Gifts with Vision catalogues have arrived! A great way to give to those in need and do your Christmas shopping at the same time! You can help folks in Oxford House to buy groceries (pg. 13) or provide warm clothes and a meal (pg 15) here in Winnipeg at one our Community Ministries. There are many other opportunities for giving across Canada or around the world. Catalogues can be found on the tables in the narthex or hallway or shop online at giftswithvision.ca.
Taxi Fund
The Westminster Taxi fund was set up to allow folks who find it difficult to make their way to church, the ability to come on Sundays at no cost to them. Please remember this important outreach to our church family.