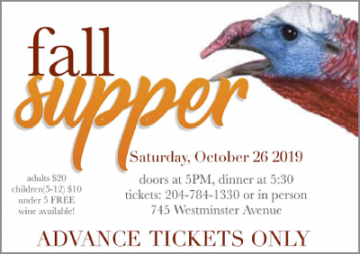 Prayers and Praise
Please keep the congregation and staff of St. Andrew's United Church in Ninette Manitoba in your thoughts and prayers this week.
Today is Worldwide Communion Sunday. Our October Communion Offering will be forwarded to West Broadway Community Ministry.
Congratulations to Westminster's Charles Huband who is a recipient of the Winnipeg Theatre Awards Theatre Champion Award. Charles may be best known as a judge and politician, but he was also one of the driving forces behind the Prairie Theatre Exchange. The third ceremony of the award program, colloquially known as the Evies, is scheduled to take place Nov. 4 at the West End Cultural Centre. Winnipeg Theatre Awards tickets are on sale at winnipegtheatreawards.com/tickets.
St. Andrew's Annual Harvest Supper
St. Andrew's River Heights, 255 Oak St, is having their Annual Harvest Supper on Sunday, October 27 with two sittings at 4:30pm & 6:30pm. Tickets are $20 for adults, $6 for children 5-12 years and 4 & under are free. Wine will be served at $5 per glass. Tickets can be purchased online through Eventbrite at https://www.eventbrite.ca/e/st-andrews-annual-harvest-supper-tickets- 72950718563 or the church office from Monday – Friday 9-3pm.
---
This Week at Westminster
Sunday, October 6

Morning Worship, Sanctuary: 10:30 to 11:30 am
UFCW #832 meeting: 1:00 to 8:30 pm
Monday, October 7

Sparks, Lecture Hall: 6:30 to 7:30 pm
Brownies, Concert Hall: 6:30 to 8:00 pm
Guides, Gym: 6:30 to 8:00 pm
Pathfinders, TBA: 6:30 to 8:30 pm
Property Committee, Library: 7:00 to 9:00 pm
Ministry & Personnel Committee, Chapel: 7:00 to 9:00 pm
Tuesday, October 8

Knitters, Chapel: 10 am to 12 pm
Staff, Library: 12:00 to 1:00 pm
Tai Chi, Lecture Hall: 5:30 to 6:30 pm
Beavers, Concert Hall: 6:30 to 7:45 pm
Cubs, Gym: 6:30 to 8:00 pm
Venturers, Board Room: 6:30 to 8:30 pm
Wednesday, October 9

Families Anonymous, Library: 1:00 to 3:00 pm
Scouts, Gym: 6:30 to 8:00 pm
Inner & Outer Connections Committee, Chapel: 7:00 to 9:00 pm
Thursday, October 10

Quilters, Library: 10:30 am – 2:30 pm
Manitoba Society of Occupational Therapists, Lecture Hall: 4:30 – 8:30 pm
Tai Chi, TBA: 5:30 – 6:30 pm
Choir, Sanctuary: 7:00 – 8:30 pm
Sunday, October 13

Morning Worship, Sanctuary: 10:30 – 11:30 am
Poole / Johnston Wedding, Sanctuary: 4:00 pm
---
Hurricane Dorian / donations
Three weeks ago, Hurricane Dorian, a category 5 hurricane, made land fall in the Bahamas leaving a trail of destruction. The storm destroyed thousands of homes and left approximately 60,000 people displaced from their homes. The official death toll across the Bahamas stands at 56, with over 600 people still missing. The United Church of Canada is accepting donations to support relief, recovery and reconstruction efforts, working with global partners the Methodist Church in the Caribbean and the Americas (MCCA) and ACT Alliance (ACT).
---
Season-opening concert!
Westminster Concert Organ Series presents the First Concert in our 31st Season
SEBASTIAN HEINDL (Leipzig, Germany)
First Prize Winner of the 2019 Longwood Gardens International Organ Competition
The Heroic Organ
'Reformation / Metamorphosis / Revolution'
Eugene Gigout (1844-1925)
Grand choeur dialogue
Johann Sebastian Bach (1685-1750)
Toccata, Adagio and Fugue in C Major, BWV 564
'Reformation'
Overture to the Oratorio St. Paul with Choral Sleepers awake
Felix Mendelssohn (1809-1847), tr. W.T. Best / S. Heindl
Cesar Franck (1822-1890)
from Trois Pieces:: II. Cantabile Ill.Piece heroique
INTERMISSION
'Metamorphosis'
Thierry Escaich (b. 1965)
Trois Poemes
1. Eaux Natales – Puer natus es nobis
2. Le Masque de mort – De Profundis
3. Vers l'esperance – Kyrie eleison, Christe eleison, Kyrie eleison
'Revolution'
Ludwig van Beethoven (1770-1827)
Overture to the Tragedy of Egmont (tr. T. Heywood, IS. Heindl)
Westminster United Church, Westminster Ave. at Maryland St.
2:30 pm,Sunday, October 27, 2019, tickets at the door or at McNally Robinson
Three-concert season subscription: $60; single tickets: adult $25, senior (65+) $20, university or high school student with card $10. Call 204-784-1330 or visit westminsterchurch.org.
---
2020 Calendars
Pre-order your 2020 United Church Calendars by calling Marilyn in the office. Only $5 each, in support of the Mission and Service Fund.