Thank you …
… to Bob Burton and friends for the lovely Thanksgiving display in our sanctuary … to Lynne Mavins for accompanying us on the organ this morning … to everyone who has contributed to our in-house emergency food cupboard. We are always grateful your donations so we can help folks in need.
This week we hold in our thoughts and prayers the congregation and staff at Gordon-King Memorial United Church.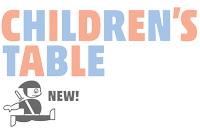 All children are invited to gather at the Children's Table following the anthem for a quiet activity to help them engage in and experience the gospel message while allowing them to move around and explore in ways that come naturally to them. Along with a craft activity you will also find Children's Bulletins in two different developmental levels containing activities relating to the day.
This Sunday, October 8th, we are reminded that we are to remember and celebrate that God is the source of all blessings. At the Children's Table, create your own Thankful Pumpkin to put on your table at home as a reminder of all the blessings in your life. For more information about the Children's Table, email Teri Skakum, Child and Family Coordinator.
Welcome back fellow choristers!
Westminster choir is pleased to participate in the 125th anniversary celebrations at Westminster Church. We heartily invite all former choir members to join us on Sunday November 5th to sing "a Mighty Fortress is Our God". We invite you to two practices, Thursday October 26th and Thursday November 2nd from 8:00- 8:30. We would be so pleased if you are able to join us. Please email or call Shannon MacFarlane, choir president at 204 227 6562 or shannonmacfarlan@hotmail.com to confirm your attendance. We look forward to joining voices for this momentous occasion!
Quilting group looking for work!
The quilting group is looking for work. If you (or someone you know) have a quilt top that is ready for quilting, let them know. Their rates are very reasonable and the proceeds go to Westminster Church. Please contact Grace Aoki or the church office if you can help to keep these ladies out of mischief on Thursday mornings.
This Week at Westminster
Sunday, October 8
• Morning Worship, sanctuary 10:30 am
Monday, October 9
• Thanksgiving Holiday – building closed
Tuesday, October 10
• Knitters, cancelled 10:00 – 12:00 pm
• Staff, library 12:00 – 1:00 pm
• Tai Chi, gym 5:30 – 6:30 pm
Wednesday, October 11
• Families Anonymous, library 1:00 – 3:00 pm
• Scouts, gym 6:30 – 8:30 pm
• Stewardship, Library 9:00 am – 12:00 pm
• Inner & Outer Connections, Library 7:00 – 9:00 pm
Thursday, October 12
• Quilters, library 10:30 am – 2:30 pm
• Fishing Tips Book Study, chapel 1:30 – 2:45 pm
• Tai Chi, lecture hall 5:30 – 6:30 pm
• Al-Anon, library 7:00 – 8:00 pm
• Choir, sanctuary 7:00 – 8:30 pm
• Judo, gym 7:00 – 8:30 pm
Friday, October 13
• Office closed – Marilyn will not be in
Sunday, October 15
• Morning Worship, sanctuary 10:30 – 11:30 am
• Book Study, Chapel 11:45 am
Anniversary Events
Anniversary Book Study: Fishing Tips / In preparation for the John Pentland Weekend, the same book study, offered in two different timeslots in the chapel. (facilitated by Rev. Sherri): Sundays, Oct. 1, 15, 22/17 – 11:45 am – 1:00 pm; Thurdays Oct. 12, 19, 26/17 – 1:30 – 2:45 pm. Books are available in the church office @ no charge. PLEASE CONTACT THE CHURCH OFFICE TO REGISTER FOR THE STUDY
Saturday Oct. 21, Anniversary Dinner 5:30 pm (dinner at 6) Norwood Hotel, Marion St. Main floor Ballroom (easy access). Tickets available in the office or from Helen LaRue or Ted Barnett…$55.00.
Saturday Oct. 28 / Westminster Congregational Workshop with John Pentland — please RSVP at the church office
Sunday Oct. 29 – 10:30 am Guest Preacher, John Pentland
Sunday Oct. 29 – 7pm An Evening with John Pentland (public lecture, all welcome)
Sunday Nov. 5 – 10:30 am – 125th Anniversary Service, with Guest Preacher Devon Clunis (retired Winnipeg Police Chief) and a special presentation from our choir and guest instrumentalists.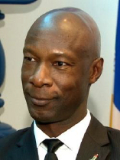 Retired Winnipeg Police Chief, Devon Clunis will be speaking at our 125th Anniversary Service on November 5 at 10:30 am. He will tell his story about growing up in Jamaica, to becoming the first black Police Chief in Canadian history and how important it is for us to work together for our communities. Join us for cake and conversation after the service in the Lecture Hall where Mr. Clunis will be selling his book.
Alleluia Singers
The Alleluia Singers of CFR present our fall concert of Gospel music on Sunday Oct 22nd at Crescent Fort Rouge United Church, 525 Wardlaw Avenue at 1:30 pm. Please plan to come for an afternoon of old Gospel favourites – & some new ones too ! Bring your friends, family, or neighbours & let's raise the roof in song! Tickets $15 – available from choir members & at the door.
Quiz Night
Transcona Memorial United Church (209 Yale Ave W) is hosting our 3rd Annual Quiz Night with the Quizmasters, Friday, Oct 13th at 7 pm. Tickets $15 each; teams/tables of 6 to 8 people; bring your own snacks/appetizers for your team; canned drinks for sale $1; coffee/tea provided. Contact Adrian 204-661-0478 or measner@shaw.ca
Social Mentor Network
Seeking Amazing Mentors! The Social Mentor Network supports congregations and ministries across Canada by connecting them with mentors who can help them achieve their mission. Anyone with professional or significant volunteer experience across skillsets, like strategic planning, fundraising, project management, marketing, etc. can be a mentor. This includes anyone from recent graduates to retired professionals. For more information, visit www.socialmentornetwork.ca or reach out to Alexandra at socialmentornetwork@gmail.com
Fall Turkey Supper
Fall Turkey Supper sponsored by Crescent Fort Rouge United Church and held at Churchill Park United Church, 525 Beresford Ave. Saturday, October 21. Two sittings – 5:00 & 6:30. Adults $20 Children (ages 6-12) $10 ages 5 and under free. Traditional Thanksgiving Dinner (Turkey, Meatballs and all the accompaniments) – home-made pies. Wine available for sale. Advance Tickets only – 204-663-3372.
Home Tours 2017
The Character Homes of Crescentwood, River Heights & Area: On Saturday, October 21, 2017 from 10am to 4pm take a self-guided tour of the interiors of some of Winnipeg's grand and glorious private residences. Tickets are $35 and available at University Women's Club (54 West Gate) and McNally Robinson. Sponsored by the University Women's Club in support of Ralph Connors Heritage House. For more information, phone 204-954-7880 or email uwc@mymts.net <mailto:uwc@mymts.net>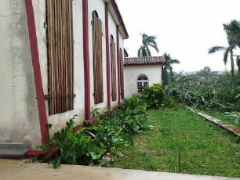 Caribbean Hurricane Relief
The United Church is accepting donations to help Mission & Service partners provide relief to those affected by the recent hurricanes in the Caribbean. As of today, we have received $52,170! Thank you! Your support is still needed across the region. Find out how you can help at www.united-church.ca/caribbean- hurricanes-2017. [Pictured: Damage at the site of United Church partner, the Evangelical Seminary of Theology in Matanzas, Cuba. Photo: Francisco Marrero.]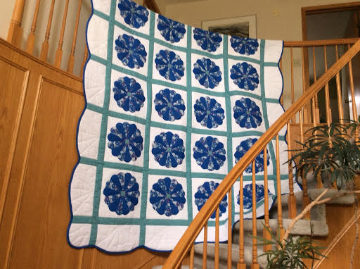 The Westminster Dresden Plate Memorial Quilt
This quilt was made by the Westminster Quilting Group and will be sold by silent auction as part of the 125th Anniversary of Westminster United Church with the proceeds going to the church. The Westminster Quilting group. Photo by Roy Halstead.
Details
quilt dimensions – approx. 7 ft. by 8 ft. (Queen Size bed)
quilt will be on display in the Lecture Hall on Sundays Oct. 8 & 15 and at the 125th Anniversary Dinner Oct. 21 at the Norwood Hotel.
bids can be made at the church on Oct. 1, 8 & 15 or at the dinner on Oct. 21 Please see either Grace Aoki or Peter Macdonald
there is a reserve bid of $950.
From Grace Aoki: "In 2015 the members of the Quilting Group were cleaning out their cupboard in the Lecture Hall at the church when they discovered a bag containing 20 completed circles of a quilting pattern called Dresden Plate. No one had any memories of their origin or how long they had been in the cupboard. There was a note saying that they were donated by a friend of a deceased member of the congregation. My recollection is that it was one of the Stewarts but I do not recall a first name. The quilters decided that this find could be put to good use. We embarked on a new endeavor: to make a quilt from 'almost' scratch as a group and so it began. The pieces we found were first appliqued onto squares of white cotton. Then these completed squares were joined with green sashing to form the quilt top. Next, a quilting pattern of stitches had to be drawn onto the quilt top. These act as a guide for the quilt stitches. The quilt top was then stretched with batting and a backing of cotton onto a quilt frame in the library and the quilting began. Months later, in 2016 when it came off of the frame it was finished with a binding. This is the provenance of this beautiful quilt which the Quilters of Westminster thought was an appropriate symbol to celebrate our 125 anniversary."
Quilting has been a mainstay of Westminster Church activities since World War I.