The Westminster Concert Organ Series in its 29th season at Westminster Church presents three exciting concerts with the magnificent four-manual Casavant Frères pipe organ and new 
Trompette en Chamade
 — superb sight lines, great acoustics, and an intermission for friends and coffee.
Click here for your 17/18 season ticket order form.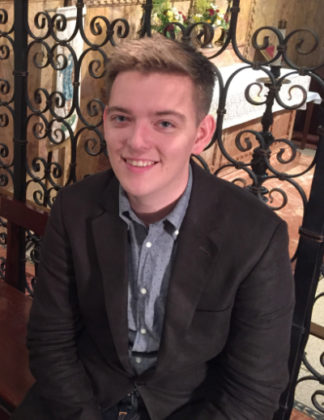 JOSHUA STAFFORD
Sunday, 12 November 2017, 2:30 PM
The meticulous technique, innate yet highly mature musicality, and constant musical engagement exhibited by Joshua Stafford compelled the jury of the 2016 Longwood Gardens International Organ Competition to name him, out of 12 stellar competitors, the Pierre S. du Pont First Prize Winner of this illustrious event, earning him a cash award of $40,000.
Already in demand as a recitalist, improviser, and choral accompanist, Joshua has performed at many notable venues, including the Wanamaker Organ in Philadelphia, the National Shrine of the Immaculate Conception in Washington DC, Philadelphia's Kimmel Center, Ocean Grove Auditorium in New Jersey, the Chautauqua Institution in New York, and Spivey Hall in Georgia
A native of Jamestown, New York, Joshua Stafford is the Director of Music at St. Peter's Episcopal Church in Morristown, New Jersey.
PROGRAM
Comes Autumn Time
Leo Sowerby (1895-1968)
Prelude to Hansel and Gretel
Engelbert Humperdinck (1854-1921) — transc. Edwin H. Lemare (1865-1934)
Rondo Capriccio, Op. 64
Edwin H. Lemare
Sonata Eroïca, Op. 94
Joseph Jongen (1873-1953)
INTERMISSION
Symphony No. 8, Op. 88
Antonin Dvořák (1841-1904) — trans. Joshua Stafford (b. 1988)
Allegro con brio
Adagio
Allegretto grazioso-Molto vivace
Allegro ma non troppo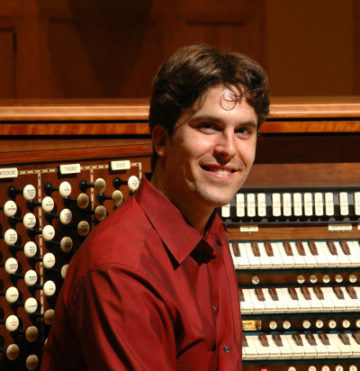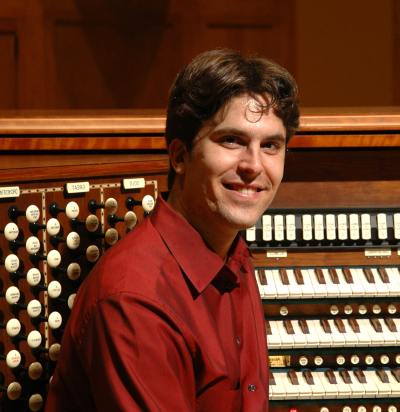 RAÚL PRIETO RAMÍREZ
Sunday, 18 February 2018 at 2:30 PM
With words such as "sizzling" and "transcendent" used to describe his performances, Raúl Prieto Ramírez is the first Spanish organist in recent times to establish himself among the elite of the international pipe organ scene.
After studies in Spain, Mr. Ramírez moved to Stuttgart to study organ with Ludger Lohmann and, concurrently, piano with Leonid Sintsev at the Rimsky-Korsakov Conservatory in St. Petersburg. He also studied organ under Marie-Claire Alain, Guy Bovet, Eric Lebrun, Lionel Rogg, and Luigi Ferdinando Tagliavini
In September 2013, Mr. Ramírez was appointed the organist-in-residence at Sursa Concert Hall and the professor of organ at Ball State University, Indiana. He continues as the artistic director of the annual summer International Organ Festival in Barcelona.  This is his second performance with the Westminster Concert Organ Series.
PROGRAM
Toccata, Adagio, and Fugue in C Major, BWV 564
Liebster Jesu, wir sind hier, BWV 731
Johann Sebastian Bach (1685-1750)
Clair de lune (from Suite Bergamasque)
Claude Debussy (1862-1918), arr. Raul Prieto Ramirez
Finale from Sonata No. 1 in D minor, Op. 42
Alexandre Guilmant (1837-1911)
INTERMISSION
Suite, Op. 5
Maurice Duruflé (1902-1986)
Prélude
Sicilienne
Toccata
Prelude to Die Meistersinger von Nurnberg
Richard Wagner (1813-1883), arr. Raul Prieto Ramirez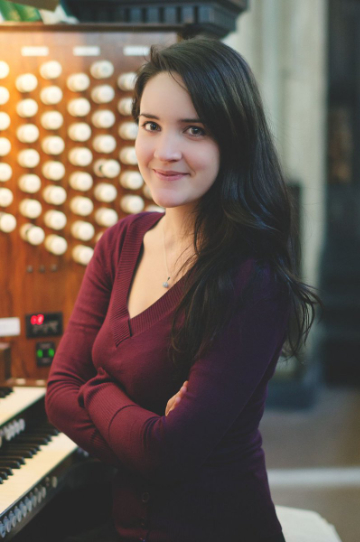 RACHEL MAHON
Sunday, 8 April 2018 at 7:30 PM
Note: change of time!
Rachel Mahon regularly plays for and conducts the choirs at Chester Cathedral (UK), where she is Assistant Organist, a post she combines with a busy international recital schedule. Recent and upcoming recitals include an opening concert for the Montreal Symphony with an all-English programme at Maison symphonique de Montréal; St Alban's Cathedral, UK; Royal Canadian College of Organists' National Convention 2016; Orgelsommer Festival 2016 & 2017, St. Michaelis Church, Lüneburg, Germany; Temple Church, London, UK (presented by the Keyboard Trust); St Thomas Fifth Avenue, New York City; Christ Church Cathedral, Victoria, BC; Pro Organo, Ottawa, ON; and the Toronto Bach Festival 2018. She is equally experienced as an accompanist, having performed extensively with numerous choirs and ensembles, including the Mendelssohn Singers, the Elora Festival Singers and the Tallis Choir of Toronto.
Rachel was Organ Scholar at St Paul's Cathedral in London, England from 2014-2016. As one of the full time organists, she regularly played and conducted for services, working with the world famous Cathedral Choir in the daily cycle of worship as well as services of National significance. She has played for several high profile events, including those in the presence of royalty.
Rachel has won numerous awards and competitions in Canada, including a graduating scholarship from the Faculty of Music, University of Toronto and the Godfrey Hewitt Memorial Scholarship from the Royal Canadian College of Organists. She holds a Bachelor of Music degree in Organ Performance from the University of Toronto, where she studied with Professor John Tuttle. Whilst pursuing her degree, Rachel was the Bevan Organ Scholar atTrinity College, U of T, as well as the Principal Organist at Timothy Eaton Memorial Church. She has also held organ scholarships at St James Cathedral, Toronto and Truro Cathedral, UK. In 2014, she was named one of the top 30 musicians under 30 in Canada by the CBC. Rachel currently studies with Henry Fairs at the Royal Birmingham Conservatoire.
In 2012, Rachel and Sarah Svendsen founded the duo Organized Crime and the two organists aim to entertain audiences with their music and crazy antics. The pair had a successful Canadian tour last summer and will be performing at the RCCO National Convention inHalifax, July 2019.
PROGRAM
Pre-concert event: Morna-June Morrow
& her handbell quartet performing at 7:00 pm
Cortège Académique
Sir Ernest MacMillan (1893-1973)
Nos. 4 and 5, from 6 Studien in kanonischer Form, Op. 56
Robert Schumann (1810-1856)
Toccata in D minor, BuxWV 155
Dietrich  Buxtehude (1637/39-1707)
Fancy and Voluntary
Thomas Tomkins (1572-1656)
Master Tallis's Testament
Herbert Howells (1892-1983)
L'Ascension
Olivier Messiaen (1908-1992)
II Alleluias sereins d'une âme qui désire le ciel
III Transports de joie d'une âme devant la gloire du Christ qui est
la sienne
INTERMISSION
Sinfonia, from Wir danken dir, Gott, wir danken dir, BWV 29
J.S. Bach, arr. Alexandre Guilmant (1837-1911)
Prelude and Fugue in G minor, Op. 7 No 3
Marcel Dupré
Prelude on Rhosymedre
Ralph Vaughan Williams (1872-1958)
Introduction, Passacaglia and Fugue
Healey Willan (1880-1968)