The Westminster Concert Organ Series in its 30th season at Westminster Church presents three exciting concerts with the magnificent four-manual Casavant Frères pipe organ and new Trompette en Chamade — superb sight lines, great acoustics, and an intermission for friends and coffee. Click here for your 18/19 season ticket order form.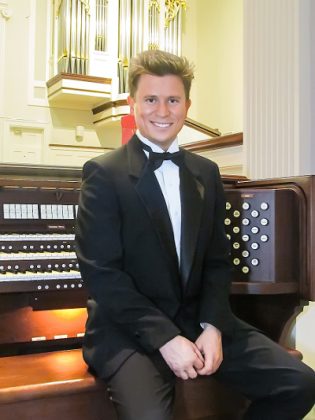 ADAM BRAKEL, Florida, USA
Sunday, 28 October 2018, 2:30 pm
The spell-binding performances of Adam J. Brakel have led to his being compared to Liszt, Gould, Bernstein, and Paganini. National Public Radio in Florida hailed him as, "An absolute organ prodigy, with the technique and virtuosity that most concert pianists could only dream of. He is the Franz Liszt of the organ." He enjoys a highly successful concert career, playing from coast to coast in the United States and in concert tours in England, Germany, and Hong Kong. Brakel's repertoire of organ literature is extensive and includes the complete organ works of Bach, Bruhns, Buxtehude, Couperin, Liszt, Franck, Mendelssohn, Duruflé, and Franck. Mr. Brakel has also made a concentrated study of jazz music for the pipe organ and has premiered an arrangement of celebrated jazz pianist Dick Hyman's Shenandoah and Millennial Countdown.
He currently serves as Director of Music at St. Frances Xavier Cabrini Parish in the Diocese of St. Petersburg, Florida.
PROGRAM
Etude Symphonique
Marco Enrico Bossi (1861-1925)
Trio Sonata No. 2 in C Minor, BWV 526
Johann Sebastian Bach (1685-1750)
Fantasy on Jerusalem
Vincent Rone (b. 1980)
Introduction, Passacaglia, and Fugue
Healey Willan (1880-1968)
Intermission
Praeludium and Fugue in C minor
Henry Martin (b. 1950)
— Canadian premiere commissioned by Michael Barone and American Public Media's PIPEDREAMS radio program
Sweet Sixteenths (A Concert Rag for organ)
William Albright (1944-1998)
Maple Leaf Rag
Scott Joplin (1868- 1917)
— arr. for organ A. Brakel
Praeludium in D Minor Bux WV 140
Dieterich Buxtehude (1637-1707)
Variations on a theme from Carmen
Vladimir Horowitz (1903-1989)
— arr. for organ A. Brakel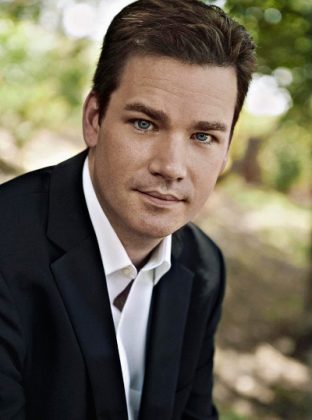 KEN COWAN, Canada, USA
Sunday, 17 February 2019, 2:30 pm
Ken Cowan a native of Thorold, Ontario is one of North America's finest concert organists. Praised for his dazzling artistry, impeccable technique and imaginative programming by audiences and critics alike, he maintains a rigorous performing schedule which takes him to major concert venues and churches in America, Canada, Europe, and Asia.
Mr. Cowan has been a featured artist in recent years at the national convention of the American Guild of Organists held in Houston and has performed at many regional conventions of the AGO, and has been featured at several conventions of the Organ Historical Society and the Royal Canadian College of Organists.
Ken received the Master's degree and Artist Diploma from the Yale School of Music/Institute of Sacred Music, studying organ with Thomas Murray.
In 2012 Mr. Cowan joined the keyboard faculty of the Shepherd School of Music at Rice University as Associate Professor and head of the organ program.
PROGRAM
Passacaglia in C minor, BWV 582
Johann Sebastian Bach (1685-1750)
Canon in A-flat major, Op. 56, No. 4
Robert Schumann (1810-1856)
Humoresque, Op. 77 (Hommage à Marcel Dupré)
Rachel Laurin (b. 1961)
Overture to Der Fliegende Holländer
Richard Wagner (1813-1833)
— arr. E.H. Lemare
Intermission
Prelude and Fugue in C major, Op. 36, No. 3
Marcel Dupré (1886-1971)
Valse Mignonne, Op. 142, No. 2
Sigfrid Karg-Elert (1877-1933)
Suite, Op. 5
Maurice Duruflé (1902-1986)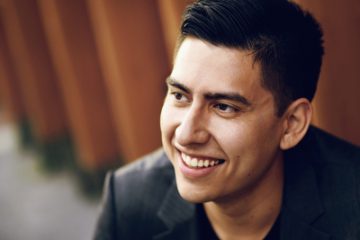 MICHAEL HEY, New York City, USA
Sunday, 28 April 2019, 2:30 pm
Described as "scintillating" and "tremendously virtuosic" (The Straits Times, Singapore), concert organist Michael Hey has been increasingly visible on US and international stages. He has performed organ concertos with the San Francisco Symphony, the Juilliard Orchestra, and New York City Ballet Orchestra. Michael has appeared at renowned venues such as Carnegie Hall and Madison Square Garden.
Michael is a graduate of The Juilliard School where he received his B.M. and M.M. degrees in organ performance under Paul Jacobs.
In September 2017, Michael received first prize in the Shanghai Conservatory of Music First International Organ Competition.
In 2015, Michael was appointed Associate Director of Music and Organist of Saint Patrick's Cathedral in New York City, where one of his first major tasks was to perform for the first U.S. visit of Pope Francis. Not exclusively a solo organist, Michael enjoys collaborating with other artists.
PROGRAM
Symphony No. 6, Op. 42, No. 2
Charles-Marie Widor (1844-1937)
Roulade, Op. 9, No. 3
Seth Bingham (1882-1972)
Variations on The Last Rose of Summer, Op. 59
Dudley Buck (1839-1909)
Pomp and Circumstance, No. 1
Edward Elgar (1857-1934)
— arr. Edwin Lemare
Intermission
Le Tombeau de Couperin
Maurice Ravel (1875-1937)
— arr. Michael Hey
The Dancing Pipes (2016)
Jonathan Dove (b. 1959)
Pageant
Leo Sowerby (1895-1968)