Sunday, 23 January 2022 / livestream only!
Online Worship 10:30 am
Minister:  Rev. Sherri McConnell
Guest Organist:  Lynne Mavins
Update from Rev. Sherri!
Dear Westminster Friends,
During this Week of Christian Unity, we are reminded of the common call to mission and ministry that we share with all faith groups, and most especially with other Christian Denominations. The United Church of Canada is a denomination which encourages us to "draw the circle wide," and to remember that we are far more than simply our own congregation—we are part of the wider church community, and together we all participate in God's mission, helping to build and become God's vision of peace, hope and compassion in the world, each in our own small ways. That is pretty awesome, when you think about it.  As the words of Archbishop Desmund Tutu continue to reverberate and remind us – it is those little bits of good, when put together, that overwhelm the world.
Blessings, Rev. Sherri.
Upcoming Worship Services
Sunday, 30 January 2022, 10:30 am, online only
Sunday, 6 February 2022, 10:30 am, guest worship leader: Rev. Don McIntyre
Sunday, 6 March 2022, 10:30 am, Lent 1: Our journey through Lent begins
Sunday, 13 March 2022,  with Special Guest Preacher, Josh Ward, community facilitator at 1JustCity's West End Drop In Centre (formerly known as the St Matthews-Maryland Community Ministry) will be speaking to us about the ministry he does in Winnipeg's west-end, and the steps towards reconciliation that have taken place at the place we used to know as St. Matthews-Maryland Community Ministry. Mark your calendars and be sure to join us!
Upcoming Zoom Study Group
How is it with your soul?  Spiritual Attributes: Nurturing our Spiritual Path
You are invited to this three-week study on ways to nurture our spiritual path; each week will include prayer, personal reflection, small group conversation, plenary discussion and homework suggestions.  All that is required is you bring your curiosity and a willingness to explore what your spiritual path is or might be.  More information, including dates and time, to come!
(With thanks to Loraine MacKenzie Shepherd and Tammy Allen's book: Thriving Churches: Urban and Rural Successes, which I use as a resource for this study—an interesting read, but not necessary to read for participation in this group).
---
COVID Protocols at Westminster
Must be fully vaccinated for In Person worship and for those who are not fully vaccinated, we recommend joining the Westminster Family online worship service.
Masks must be worn.
Every second pew will be left vacant.
Congregational singing and responsive prayers / readings will be permitted — however, we will remain seated.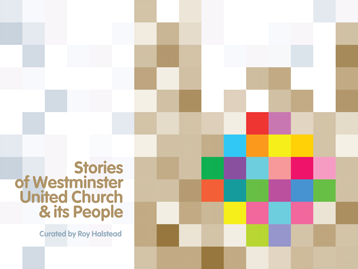 HAVE YOU READ OUR eSTORY?


Stories of Westminster United Church & its People

A definite must-read for everyone at Westminster, everyone in Winnipeg, and everyone else! Roy Halstead has carefully curated a fascinating and captivating history of Winnipeg's iconic landmark—and it's all about the people! Click here for a good eRead!