Sunday, 3 December 2023
10:30 am
Advent 1, Communion Sunday
Minister: Rev. Sherri McConnell
Director of Music in Worship: Dr. Stuart Sladden
Organist: Lynne Mavins
---
Upcoming Worship Services
Sunday, December 10, 2023, 10:30 am, Advent 2, service of music, Rev. Sherri McConnell
Sunday, December 17, 2023, 10:30 am, Advent 3, white gift, Rev. Sherri McConnell
Sunday, Dec. 24, 2023, 10:30 am, Advent 4, Rev. Sherri McConnell
---
Special Worship Services during Advent and Christmas
Wednesday, December 13, 2023, 7:00 pm, Blue Christmas Service, Rev. Sherri McConnell / A service of reflection, scripture, candles, music and prayer because sometimes the Christmas season can be a difficult time.  In the Lecture Hall, with coffee time to follow.
Sunday, December 24, 2023, 8:00 pm, Christmas Eve Service at Crescent Fort Rouge UC / This will be a Westminster and CFRUC shared service of Lessons and Carols, with special music and a joint choir.
Sunday, December 31, 2023, 11:00 am, A Westminster Service at McClure United Church / Join us as we worship at McClure United (533 Greenwood Pl) on Dec. 31 in a service led by Rev. Sherri McConnell.
---
Children's Christmas Sale
Westminster's Children's Christmas Sale will be held Saturday, 2 December 2023 from 10 am to 12 pm.With the joy of glad tidings in our hearts we ask that you (and your friends) drop off your treasures you no longer need or use, at the church. Items such as toys, jewellery, paints, children's' books, used sports equipment, household goods, stuffies … if you need someone to pick your boxed items up, please call the church and we will arrange it.
---
Moving Forward Safely
Masks and social distancing are recommended at Westminster United Church, but no longer required. We encourage everyone to do what is best for their health and well-being at this time (and their family), in terms of mask-wearing and/or attending in-person worship. We endeavor to be community that supports and respects one another, especially in these changing times. If you have any questions, please speak to Katherine Abra, Westminster Board chair.
---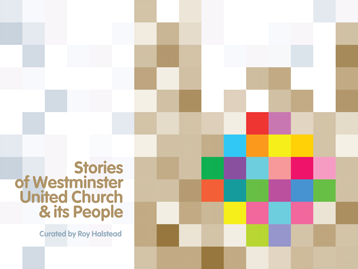 HAVE YOU READ OUR eSTORY?


Stories of Westminster United Church & its People

A definite must-read for everyone at Westminster, everyone in Winnipeg, and everyone else! Roy Halstead has carefully curated a fascinating and captivating history of Winnipeg's iconic landmark—and it's all about the people! Click here for a good eRead!