Sunday, October 17th, digital worship!
This Sunday, join us live at 10:30 a.m. CST for worship. The Rev. Carol Janke joins us as guest preacher, and Don Menzies will be on the organ to lead us in some favourite hymns. See you Sunday! Please keep the Congregation of Trinity United Church in Winnipeg in your thoughts and prayers this week. The link to this service will be available right here on Sunday morning.
Westminster's Response to the Latest Health Orders
Going forward, only fully vaccinated folks will be permitted to worship in person at Westminster. Please bring your proof of vaccination cards with you.  All others are invited to join us online. Masks must be worn in the Church. Seating is for 'same households only.' In other words, if you don't reside at the same address, you can't sit together. Social distancing will be followed. Immediately in front and back of you, there should be two empty pews. Pew cushions indicate where to sit. If you have any questions, please see an usher.
From Rev. Sherri
"Thank you so much to the congregation for the lovely card and potted plant delivered to our door. What a wonderful Thanksgiving gift!" Rev. Sherri is continuing to recuperate at home. Please keep her in your thoughts and prayers.
The Westminster Children's Christmas Sale
After careful consideration, the Board has decided that due to the Covid situation it is wisest not to hold the Westminster Children's Christmas Sale for 2021. However, we are already making preparations to hold the sale in 2022 and are collecting donated items for then. We are welcoming items to be dropped of at the church to add to the growing treasure trove downstairs.
Mincemeat
We have been advised that the mincemeat sale will be canceled again this year due to the uncertainty of COVID-19 at this time. It is hoped that we will be able to continue this tasty fundraiser next year.
Leading worship at Westminster in October:
October 24th: Rev. Michelle Owens
October 31st: 31 Rev. Carol Janke
If you required urgent pastoral care, please contact the office at 204-784-1330 or send an email to the office info@westminsterchurch.org.
COVID Protocols at Westminster
Masks must be worn
Social Distancing must be followed at all times.
Selected pews are available to sit in that provide a distance of six feet away from one another—pews with cushions on them is your key where you can sit.
Members of same households only can sit together.
Congregational singing and responsive prayers / reading will now be permitted—however, we will remain seated and masks must be worn.
All folks must be fully vaccinated to our attend our service, and for those who are not fully vaccinated, we strongly recommend they join the Westminster Family in our online worship service.
Bring your own coffee!
The worship service will be shorter than the pre-pandemic one-hour service.
Westminster Avenue has been turned into a Bicycle Path; this has limited the amount of parking available around the church building.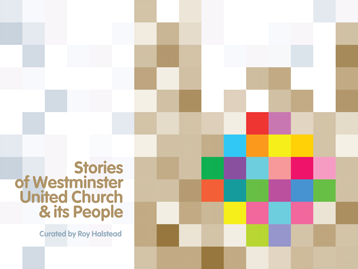 HAVE YOU READ OUR eSTORY?


Stories of Westminster United Church & its People

A definite must-read for everyone at Westminster, everyone in Winnipeg, and everyone else! Roy Halstead has carefully curated a fascinating and captivating history of Winnipeg's iconic landmark—and it's all about the people! Click here for a good eRead!