Sunday, 26 June 2022
In-Person & Livestreaming at 10:30 am
Minister: Rev. Don McIntyre
Organist: Lynne Mavins
---
After Church Coffee
There will be no coffee after church until September. Thanks to the Congressional Care Committee for their hospitality and to the many folks who donated treats!
---
A message from the Board Chair
Dear Members and Adherents of Westminster Church,
It is with deep disappointment that we are letting you know that we are cancelling our Good Friday service tomorrow, which was scheduled for 10:30 a.m. on April 15th. We can't in good conscience encourage anyone to travel to the church at this time, including those who would be providing the service for livestream. Our local governments have asked folks to stay off the roads, and it would be very difficult to get snow cleared and the church open safely in time for the service. To ensure everyone's safety, we will be reposting last year`s Good Friday service on YouTube tomorrow, April 15th, at 10:30 a.m.
For now, our Easter service, on Sunday, April 17th at 10:30 a.m. will go ahead as planned.
Stay safe, everyone! Wishing you a reflective Good Friday and a joyous Easter!
Katherine Abra,
Chair of the Board of Westminster United Church
---
Moving Forward Safely
As of March 15, masks and social distancing is recommended at Westminster United Church, but no longer required. We encourage everyone to do what is best for their health and well-being at this time (and their family), in terms of mask-wearing and/or attending in-person worship. We endeavor to be community that supports and respects one another, especially in these changing times. If you have any questions, please speak to Katherine Abra, Westminster Board chair.
---
Upcoming Worship Services
---
COVID Protocols at Westminster
Must be fully vaccinated for In Person worship and for those who are not fully vaccinated, we recommend joining the Westminster Family online worship service.
Masks must be worn.
Every second pew will be left vacant.
Congregational singing and responsive prayers / readings will be permitted — however, we will remain seated.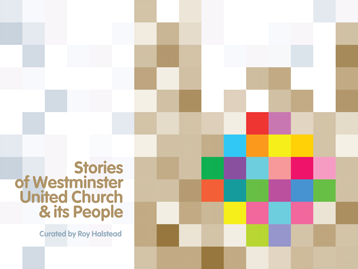 HAVE YOU READ OUR eSTORY?


Stories of Westminster United Church & its People

A definite must-read for everyone at Westminster, everyone in Winnipeg, and everyone else! Roy Halstead has carefully curated a fascinating and captivating history of Winnipeg's iconic landmark—and it's all about the people! Click here for a good eRead!