Sunday, September 26th, digital worship!
Join us live this Sunday at 10:30AM CST for worship. Rev. Don McIntyre joins us for the final time, and Erwin Kitch is our guest organist. See you at 10:30! The link to this service will be available right here on Sunday morning.
2020 Annual General Meeting
The 2020 Annual Meeting of Westminster United Church will be held via Zoom on Monday, 14 June 2021, at 7:00 pm.  To register, please contact the church at info@westminsterchurch.org.
Reopening Task Group, 25 June 2021 update
Westminster continues to remain closed to the public. Worship will continue to be pre-recorded for airing via YouTube on Sunday mornings at 10:30 am.  The office will remain open, however staff may be working from home.
COVID-19 Pandemic Plan
Please click here to view our pandemic plan.
Reopening Task Group, 18 February 2021 update
Westminster's Reopening Task Group reconvened this week. Westminster will continue to remain closed for in-person worship at this time. The Reopening Task Group will continue to monitor and update plans, and any new updates will be communicated on this page.
Code Red Update, Nov. 2020
The church building will remain closed to the public, and office staff will work at home as possible. Caretakers continue to care for our heritage building, following our strict Covid guidelines. Exceptions continue for Westminster Child Care Centre (essential service) and Bell Tower Community Café (essential service). Mail, email and voicemail will be checked regularly.
Please join us for online worship every Sunday at 10:30 am. The Westminster News is emailed weekly to the congregation.  Please call the church office if you would like to be on our church email list.
From the Westminster Reopening Task Group, October 2020
Westminster had tentatively planned to reopen for in-person Worship on October 4th. However, in view of the Orange Alert conditions commencing September 28 for the Winnipeg Region, and in the interest of the health and safety of our congregation and staff, the decision was made by the Board of Westminster to remain closed for in-person worship until such time as it is deemed safe to do so. The church building will also remain closed to the public for now (with exceptions to this made by the Board for the Westminster Child Care Centre and Bell Tower Community Café).
Your Board members and the Reopening Task Group will continue to monitor the evolving situation closely while we continue with our excellent pre-recorded virtual services. Many thanks to all who have worked hard to prepare our virtual worship, and to the committee for their thoughtful work in challenging times.
COViD 19 plan
Effective Saturday March 21, 2020 Westminster United Church is suspending worship services and all programming, and the building will be closed until further notice. The board of Westminster will meet in early April to re-assess this plan, and determine next steps.
Westminster's voice mail and email will be monitored regularly. We plan to be in regular communication via congregational email, facebook and our website. We hope to offer worship and reflection resources via technology, and are working on that.
Organisations and community groups that meet in the church building are being notified. Please contact your community group or organization directly for further information.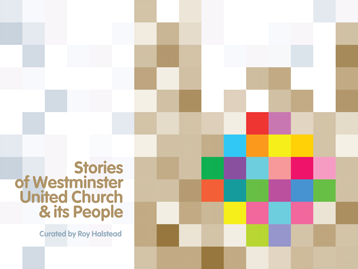 HAVE YOU READ OUR eSTORY?


Stories of Westminster United Church & its People

A definite must-read for everyone at Westminster, everyone in Winnipeg, and everyone else! Roy Halstead has carefully curated a fascinating and captivating history of Winnipeg's iconic landmark—and it's all about the people! Click here for a good eRead!