Sunday, November 28th, in-person worship!
In-person worship at Westminster 10:10 am.
Doors open at 10:10 am.
Minister: Rev. Sherri McConnell
Organist and Choir Director: Don Menzies
This Sunday is Advent One when we light the candle of hope and watch for signs of hope in the world. Our in-person worship service will be pre-recorded and uploaded to Westminster's YouTube channel.
Just a reminder that going forward, only fully vaccinated folks will be permitted to worship in person at Westminster.  Please bring your proof of vaccination cards with you. Distancing is required and masks must be worn in the Church.
Has your address changed recently?
Or maybe your phone number? Please call the church office so we can update our records. We want to keep in touch!
1JustCity's Low-Cost Christmas Store
Our Low-cost Christmas store is December 11, 2021, from 9:00 am to 9:00 pm at 356 McGee Street. Help us bring a cheerful and exciting Christmas for our West End community members. To register, email josh@1justcity.ca. Donations can be dropped off on December 9th and 10th between 8:00 am and 4:00 pm, or you can make a cash donation by visiting 1justcity.ca/donate.
Pastoral Care
IF you require Urgent Pastoral Care, please contact the office at (204) 784-1330 or send an email to the office info@westminsterchurch.org.
COVID Protocols at Westminster
Must be fully vaccinated for In Person worship and for those who are not fully vaccinated, we recommend joining the Westminster Family online worship service.
Masks must be worn.
Every second pew will be left vacant.
Congregational singing and responsive prayers / readings will be permitted — however, we will remain seated.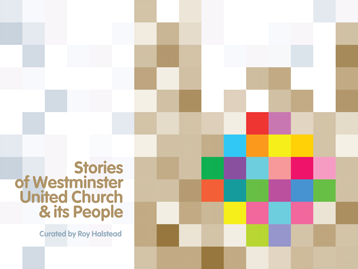 HAVE YOU READ OUR eSTORY?


Stories of Westminster United Church & its People

A definite must-read for everyone at Westminster, everyone in Winnipeg, and everyone else! Roy Halstead has carefully curated a fascinating and captivating history of Winnipeg's iconic landmark—and it's all about the people! Click here for a good eRead!