Sunday, 31 May 2020
Watch for our pre-recorded service set to go live on this Sunday morning at 10:30 am. The link to this service will be available right here on Sunday morning.
COViD-19 Update
Effective April 1, 2020, the building of Westminster United Church is fully shut down for two weeks, due to the Province of Manitoba Health Order to close all non-essential businesses, including non-profits, to slow the spread of COViD-19. Email and voicemail will be checked regularly, and the actual mail will be checked everyday. Staff will work from home. If you have questions, concerns or need anything, please call the church at 204-784-1330 and leave a voicemail, or send an email. Someone will get back to you — we promise!
If you are looking for ways to help the wider community during this time, or need some help yourself, please consider the following organizations:
COViD 19 plan
Effective Saturday March 21, 2020 Westminster United Church is suspending worship services and all programming, and the building will be closed until further notice. The board of Westminster will meet in early April to re-assess this plan, and determine next steps.
Westminster's voice mail and email will be monitored regularly. We plan to be in regular communication via congregational email, facebook and our website. We hope to offer worship and reflection resources via technology, and are working on that.
Organisations and community groups that meet in the church building are being notified. Please contact your community group or organization directly for further information.
Questions of Faith, with a nod to Star Wars, led by Rev. Dr. Jim Christie
Join us for Westminster United Church's 2020 Lenten Study. All are Welcome! Three Sessions exploring what we know in terms of current scholarship and research about Jesus' life, death and beyond, and what it all means for our lives and faith today.
Session 1 / Wednesday March 4th, A New Hope: Jesus of Nazareth, what we know of him and how.
Session 2 / Wednesday March 11th, The Empire Strikes Back: The Passion Narratives and their Implications.
Session 3 / Wednesday March 25th, The Return of . . . : The Resurrection, in context, today and beyond.
All Sessions are 7:00 to 8:30 pm (in the Lecture Hall). Come for one, two, or all three sessions! Please call or email the church office to register (204-784-1330 or info@westminsterchurch.org).
Centering Prayer Group
Centering Prayer Friends: please come five minutes early to help settle yourself into the practice that begins at 5:45 pm. In the heartfelt desire to promote more quiet contemplation, we are now holding space for Centering Prayer in Westminster's Sanctuary on the third Thursday of the month, from 5:45 to 6:45 pm.
Thursday, 17 October 2019, 5:45 to 6:45 pm
Thursday, 21 November 2019, 5:45 to 6:45 pm
Thursday, 16 January 2020, 5:45 to 6:45 pm
Thursday, 20 February 2020, 5:45 to 6:45 pm
Thursday, 19 March 2020, 5:45 to 6:45 pm
Thursday, 16 April 2020, 5:45 to 6:45 pm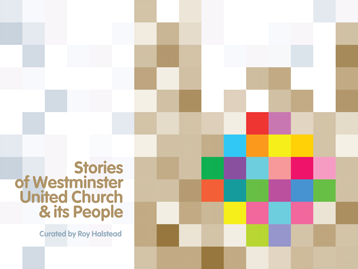 HAVE YOU READ OUR eSTORY?


Stories of Westminster United Church & its People

A definite must-read for everyone at Westminster, everyone in Winnipeg, and everyone else! Roy Halstead has carefully curated a fascinating and captivating history of Winnipeg's iconic landmark—and it's all about the people! Click here for a good eRead!