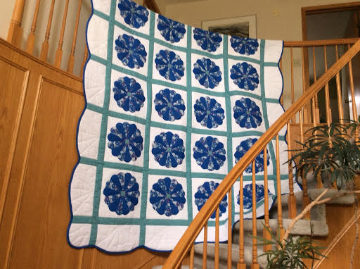 The quilt in the picture was made by the Westminster Quilting Group and will be sold by silent auction as part of the 125th Anniversary of Westminster United Church
with the proceeds going to the church.
Details
quilt dimensions: approximately 7 ft. by 8 ft. (Queen size bed).
quilt will be on display in the Fellowship / Lecture Hall of the Church Sundays, October 1st, 8th & 15th, and at the 125th Anniversary Dinner, October 21st, at the Norwood Hotel.
bids can be made at the church on October 1st, 8th & 15th or at the dinner on October 21st. Please see either Grace Aoki or Peter Macdonald.
there is a reserve bid of $950.