In-Person & Livestreaming at 10:30 am
Ministers: Rev. Sherri McConnell
Organist: Lynne Mavins
Sunday, 25 September 2022
In-Person & Livestreaming at 10:30 am
Minister: Rev. Sherri McConnell
Director of Music in Worship: Dr. Stuart Sladden
Organist: Lynne Mavins
---
Potluck lunch — 2 October 2022
Please mark your calendars and plan to join us for a potluck lunch after church, on Sunday, 2 October 2022. Watch for the Potluck signup sheet that will be coming soon.
---
Upcoming Worship Services
Sunday, 25 September 2022: Rev. Don McIntyre, Truth and Reconciliation Sunday
Sunday, 2 October 2022: Rev. Sherri McConnell; World Communion Sunday
Sunday, 9 October 2022: Rev. Sherri McConnell; Thanksgiving Sunday
---
Job posting: 

Soloist/Section Leader
Westminster United Church is seeking two soloists, an Alto and Tenor, to join us beginning mid-September 2022. The soloists at Westminster play a significant role in the life and work of both the congregation and the choir. One year commitment minimum and the soloist/section lead will have the opportunity to support the choir, sing in small ensembles, and provide solos during worship services and special occasions. There is also the possibility of podium time in front of the choir. If you are interested in joining our dynamic music team, please send a cover letter and current professional CV to info@westminsterchurch.org, and for more information on the position please click here.
Applications are due by 7 September 2022.

---
After Church Coffee
There will be no coffee after church until September. Thanks to the Congressional Care Committee for their hospitality and to the many folks who donated treats!
---
Moving Forward Safely
As of March 15, masks and social distancing is recommended at Westminster United Church, but no longer required. We encourage everyone to do what is best for their health and well-being at this time (and their family), in terms of mask-wearing and/or attending in-person worship. We endeavor to be community that supports and respects one another, especially in these changing times. If you have any questions, please speak to Katherine Abra, Westminster Board chair.
---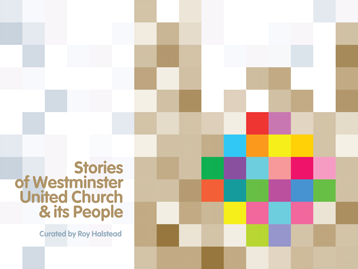 HAVE YOU READ OUR eSTORY?


Stories of Westminster United Church & its People

A definite must-read for everyone at Westminster, everyone in Winnipeg, and everyone else! Roy Halstead has carefully curated a fascinating and captivating history of Winnipeg's iconic landmark—and it's all about the people! Click here for a good eRead!
In-Person & Livestreaming at 10:30 am
Ministers: Rev. Don Mcintyre (liturgy) and Rev. Sherri McConnell (preaching)
Organist: Ken Doerksen