From the dramatic Neo-Gothic exterior of the building to the spacious interior with beautiful stained glass, a 4 manual Casavant pipe organ, and wonderful acoustics, Westminster United Church is the right setting for your special day.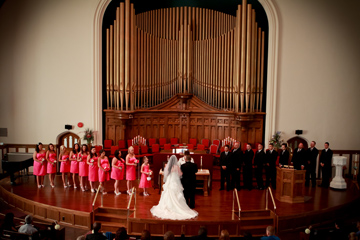 We have ministers who can conduct the service, four singers (soprano, alto, tenor and bass) to choose from for solos, and an excellent organist who can recommend a range of inspiring music for your service played on one of the finest pipe organs in Western Canada.
For your wedding service, you will be able to choose from four Christian liturgies which range in style and content from the traditional to the contemporary.

Please see our Wedding Info Package for more info on booking your wedding at Westminster Church.
Questions? Please contact the church office at 204-784-1330 or info@WestminsterChurch.org.
See our facility rental page for details on renting Westminster for a wide variety of events.